Progress in Afghanistan during June 2011
Foreign Secretary William Hague has updated Parliament on progress in Afghanistan during June 2011.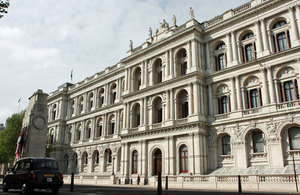 In a written statement the Foreign Secretary said:
I wish to inform the House that the Foreign and Commonwealth Office, together with the Ministry of Defence and the Department for International Development, is today publishing the eighth progress report on developments in Afghanistan.
The report focuses on key developments during the month of June.
The UN Security Council unanimously adopted resolutions 1988 (2011) and 1989 (2011). This created two new sanctions regimes to replace the UN Security Council Resolution 1267 (1999) Al-Qaeda and Taliban sanctions regime. This is an important step. It sends a clear signal that now is the time for the Taliban to break with Al-Qaeda and join the political process.
We welcome the Government of Afghanistan's support of this initiative and its continued engagement in the implementation of sanctions to counter the insurgency.
June saw the anticipated increase in security incidents. The insurgency continued its attacks in an attempt to reassert itself, but the Afghan National Security Forces continue to respond effectively. The Afghan forces dealt with a major, sophisticated attack on the Intercontinental Hotel in Kabul on 28 June professionally and speedily.
The Special Electoral Court established in December to investigate accusations of electoral fraud following the 18 September Parliamentary elections, announced its findings. These called for the dismissal and replacement of 62 of the Lower House's 249 MPs. The Lower House of Parliament responded to the announcement by passing votes of no confidence in the Attorney General, Chief Justice and members of the Supreme Court.
Negotiations between the Afghan Government and the International Monetary Fund on a new IMF programme have stalled. While the Government of Afghanistan has made progress, the IMF is keen to see more robust action in key areas including asset recovery. A UK co-funded forensic audit of the Kabul Bank is now under way.
Published 19 July 2011