Foreign Secretary William Hague has updated Parliament on progress in Afghanistan during March.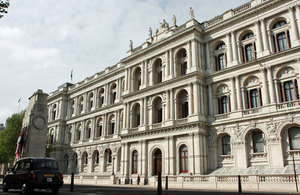 In a written statement to Parliament the Foreign Secretary said:
"March has been a sobering month for British forces operating in Afghanistan. Nine members of our Armed Forces made the ultimate sacrifice in service to their country and more than 400 have died since operations began in 2001. Such moments of tragedy remind us of the high cost of the campaign, the difficulty of the mission and the bravery of our soldiers, marines, sailors and airmen.
As the campaign progresses we can expect to face further challenges. However, we must not allow these to cloud the real and tangible progress being made. Reported year-on-year violence levels are down, the Afghans are increasingly taking the lead on security operations and the insurgency remains under pressure.
We remain committed to Afghanistan both now and in the long term and we look forward to the international community further articulating its commitment at the forthcoming Chicago and Tokyo Summits. The Prime Minister discussed progress in Afghanistan with President Obama during his visit to the US in March. They reaffirmed their commitment to the Lisbon timetable for transition of security to Afghan control. This process is on track, is realistic and is achievable.
In March's operational honours list ninety members of our Armed Forces received honours and awards in recognition of service in Afghanistan between April and September 2011. These included nine Military Crosses which were awarded in recognition of exemplary gallantry during active operations against the enemy.
UK aid continued to help the Afghan Government improve its own capacity to deliver better public services for its people, particularly at the local level. Latest figures suggest that with UK assistance the Afghan Government is better able to spend funding in line with its own development budgets, which ultimately means better and more comprehensive public services for Afghan people."
Published 26 April 2012