News story
Programme for Government: Business
This is a response to the public comments received on 'The Coalition: Our Programme for Government' on Business.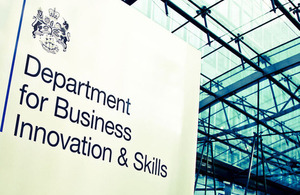 **The Government believes that business is the driver of economic growth and innovation, and that we need to take urgent action to boost enterprise, support green growth and build a new and more responsible economic model.
**
We received a number of responses and suggestions on policies related to business as part of the public consultation. The responses covered a range of areas including: the need to encourage manufacturing, the formation of Local Enterprise Partnerships, and proposals around the future of Royal Mail.
The areas that generated the highest volume of comments were: the need to reduce regulation; the introduction of an aspiration that 25% of government contracts are awarded to small and medium-sized businesses; and the need to reduce Business Rates to support businesses.
The largest single issue was what is felt to be an excessive regulatory burden on business. The Government firmly believes that British businesses need to be free to grow, and not dealing with burdensome tick-box regulation and form filling. This is why the Government is committed to stopping the endless flow of regulation that can act as a barrier to growth, and instead only plans to regulate as a last resort.
The Government has announced that it will reduce regulatory costs for business by introducing a one-in-one-out system for new regulations. There will also be a thorough review of potential regulations and the Government is also reviewing specific areas of burdensome regulation such as employment law and health and safety to make life simpler for business.
A large number of respondents also expressed support for the aim to introduce an aspiration that 25% of government contracts should be awarded to small and medium sized businesses (SMEs). The Government is committed to making it easier for SMEs to win public sector business. We know that many small businesses find public procurement processes burdensome and in some cases completely off-putting.
The Government will seek to simplify and streamline the procurement process, increase transparency and make it easier for SMEs to find out about public sector opportunities, including sub-contracting opportunities.
A number of respondents suggested that Business Rates should be reduced to support smaller businesses. Currently, business rates increase in line with the RPI (Retail Price Index) inflation rate. However, there are a number of reliefs available to occupants to reduce their liability. These include reliefs for charities, certain businesses in rural areas, and Small Business Rate Relief (SBRR).
The Chancellor, in the June Budget, announced that the level of SBRR will be doubled for one year, from October 2010.
The Coalition Agreement also contains a commitment to find a practical way to make SBRR automatic. In addition, the Government has already acted to freeze certain backdated liabilities and is committed to bringing forward primary legislation to waive them at the earliest opportunity.
Links
Video response from Cabinet Office Minister Oliver Letwin and Chief Secretary to the Treasury Danny Alexander
Published 30 July 2010