News story
Professor Terri Scott appointed to Ofqual board
Professor Terri Scott has been appointed to serve as the Northern Ireland member of the Ofqual board for three years.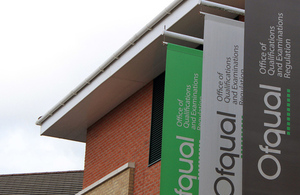 Ofqual Chair, Amanda Spielman, said:
I am delighted to welcome Professor Scott to the board. With her wealth of experience, she is ideally placed to make a direct contribution to the leadership of Ofqual, with particular focus on our important work in Northern Ireland.
Professor Scott is currently the Principal and CEO of Northern Regional College in Northern Ireland. Professor Scott began her career as a lecturer and has gone on to hold leadership positions in higher education in Northern Ireland and the Republic of Ireland.
Five reappointments have also been made to the Ofqual board. Barnaby Lenon, Anne Heal, Professor Julius Weinberg, Tom Taylor and Roger Taylor have been appointed for three further years.
The appointments were confirmed by Education Secretary, Nicky Morgan.
-ends-
Press office
Press office 0300 303 3342
Out of hours 07798 924 552
For enquiries from journalists only. The press office phone is open weekdays from 9am to 5pm.
Notes to editors:
Ofqual, the Office of Qualifications and Examinations Regulation's job to maintain standards and confidence in qualifications. We look after GCSEs and A levels in England, and a wide range of vocational qualifications both in England and Northern Ireland. We also regulate the National Curriculum Assessments in England.
We are independent of Government ministers and we report directly to Parliament in Westminster and the Northern Ireland Assembly. While we are independent, we give advice to Government on qualifications and assessment based on our research into these areas.
Published 18 February 2015