Press release
Professor Rory Shaw to lead NHS International Development Team
Professor Rory Shaw appointed as Medical Director of Healthcare UK, leading the newly established NHS International Development Team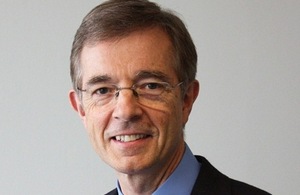 Professor Rory Shaw has been appointed as Medical Director of Healthcare UK, leading the newly established NHS International Development Team. He will report to Howard Lyons, Managing Director of Healthcare UK.
The team will strengthen ties between the NHS and foreign governments and healthcare providers, supporting NHS organisations to capitalise on overseas opportunities.
Trade Minister Lord Green said:
UK healthcare has a deservedly strong reputation worldwide. The appointment of Professor Shaw will help to bring our expertise to high-value markets abroad – safeguarding jobs at home and widening access to vital health services worldwide.
Healthcare UK Medical Director Professor Rory Shaw said:
Staff in the NHS have an exceptional level of skills and knowledge, and work in a sophisticated integrated system to offer a high level of care to very large populations of patients. There is now an opportunity to share what we have with other countries in a way that makes a real contribution to the health of their people, as well as producing funds to support the NHS.

I am very excited to be part of the team at Healthcare UK which will help the NHS configure what it can offer in a way that supports the plans of overseas regional and national governments as well as those investing in emerging countries.
Healthcare UK Director Howard Lyons said:
We are delighted that someone of Professor Shaw's experience and capability has agreed to join Healthcare UK as Medical Director leading the newly-established NHS International Development team and developing the capacity of NHS organisations to engage in international activities.
Notes to editors:
1. Professor Rory Shaw
Professor Shaw has been a medical director in the NHS for over 15 years, latterly at North West London Hospitals Trust, and previously at Royal Berkshire Foundation Trust and Hammersmith Hospitals Trust. He has also held national roles as non-executive of the NHS Litigation Authority and previously as the first Chairman of the National Patient Safety Agency. He is a consultant respiratory physician.
Healthcare UK is based in UKTI and is jointly funded by NHS England, the Department of Health and UKTI. It works alongside the Department of Health, the Department for Business, Innovation and Skills, the Foreign and Commonwealth Office and other government departments on issues relating to trade in healthcare products and services
Healthcare UK targets opportunities by driving government-to-government engagement; supporting business-government interaction; running trade missions and events; sharing intelligence on opportunities; communicating the UK's strengths overseas; engaging directly with overseas purchasers and providers; and providing hands-on advice and support to UK organisations to help them unlock opportunities
Healthcare UK's activities are overseen by a governance board, chaired by Sir Ian Carruthers, which reports jointly to Department of Health and UK Trade & Investment ministers. It will consult on its strategy with a wide variety of stakeholders. A Consultative and Advisory Forum bringing together a wide variety of industry stakeholders will be convened in the first quarter of 2014 to provide advice to the governance board on strategy
3. UKTI
UK Trade & Investment (UKTI) is the government department that helps UK-based companies succeed in the global economy. We also help overseas companies bring their high quality investment to the UK's economy – acknowledged as Europe's best place from which to succeed in global business. UKTI offers expertise and contacts through its extensive network of specialists in the UK, and in British embassies and other diplomatic offices around the world. We provide companies with the tools they require to be competitive on the world stage. For more information on UKTI, visit www.ukti.gov.uk or visit the online newsroom at www.ukti.gov.uk/media.
4. The UK Healthcare Sector
World leader - the UK is a world-leader in healthcare with unrivalled experience and expertise in meeting the complex health demands of diverse populations
cost effective - the UK's National Health Service (NHS) is 1 of the world's most cost effective healthcare systems, which is at the forefront of healthcare delivery, research and training
excellent institutions – many NHS institutions have an international reputation for excellence, including Great Ormond Street Hospital for Children, Imperial College Healthcare, King's College Hospital, Moorfield's Eye Hospital, The Royal Marsden Hospital and University Hospitals Birmingham
world-class training - the UK has a world-class reputation for training for medical, nursing and allied professional staff
partnership - the UK has pioneered collaboration between the NHS, commercial healthcare companies and academia to develop innovative, integrated, high quality and cost-effective systems of care. This partnership extends to planning and delivering facilities, clinical services and deploying new technologies
enhancing clinical services - the UK has a long track record of enhancing clinical services through analysis of how they are delivered and implementing solutions which provide better patient outcomes and improve efficiency
creating facilities – the UK has specialist design, build and operating companies with an international reputation for creating unique and culturally appropriate medical facilities
sophisticated data analysis - the UK has some of the most sophisticated health data, analysis, planning and programme implementation systems in the world
telehealth leader – the UK is at the forefront of implementing community-wide telehealth, telecare and m-Health (mobile health) systems
5.In the 2012 Autumn Statement, UKTI was awarded an additional £70 million for each of 2013/14 and 2014/15, enabling the recruitment of more international trade advisers around the country, expansion of existing services including the Trade Access Programme (TAP) and the Overseas Market Introduction Service (OMIS), and support to expand the range of assistance available to UK companies through overseas British chambers of commerce.
6.The government's economic policy objective is to achieve 'strong, sustainable and balanced growth that is more evenly shared across the country and between industries'. It set 4 ambitions in the 'Plan for Growth', published at Budget 2011:
to create the most competitive tax system in the G20
to make the UK the best place in Europe to start, finance and grow a business
to encourage investment and exports as a route to a more balanced economy
to create a more educated workforce that is the most flexible in Europe
Work is underway across government to achieve these ambitions, including progress on more than 250 measures as part of the Growth Review. Developing an Industrial Strategy gives new impetus to this work by providing businesses, investors and the public with more clarity about the long-term direction in which the government wants the economy to travel.
Published 15 November 2013