Press release
Professor Nutbrown's interim report on early education and childcare qualifications
Professor Cathy Nutbrown publishes an interim report which explores how to help people working in the early years to improve their skills, knowledge and development.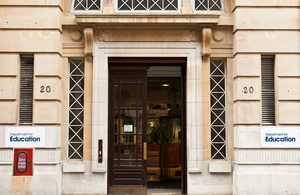 Professor Nutbrown is considering how to strengthen qualifications and career pathways for people working in early education and childcare.
During a public consultation people raised concerns about the quality of tuition, the standard of qualifications, recruitment and retention, and career progression.
Professor Nutbrown is considering the following issues as she develops her recommendations for government:
An effective qualifications structure that motivates people working in the early years and tells employers what skills and knowledge they have.
Courses that prepare people for working in the early years, raise the standards of those choosing to enter the profession, give them the right skills in literacy and numeracy and include the latest cutting edge detail about child development.
The case for expanding the role of teachers in the early years, creating new teaching pathways with an early years specialism, linking more closely the education worlds of the school and the early years.
Professor Cathy Nutbrown said:
Getting qualifications right will help to ensure that women and men enter the profession with the skills and experiences they need to do the best work with young children and their families.
Well taught courses and learning routes which lead to reliable qualifications can help early years practitioners to improve their skills, knowledge and personal qualities, constantly developing in their roles. This can only benefit young children, both in terms of their day to day experiences in the Early Years Foundation Stage and future learning outcomes.
My interim report sets out the shared concerns among the workforce about their qualifications system, but I also hope it reflects the pride they take in their work and the hugely positive impacts they are having on the lives of our young children.
Children's Minister Sarah Teather said
I welcome Professor Nutbrown's interim report. It recognises the passion and professionalism of those working with our youngest children. We know the earliest years of a child's life are so important to their development so it's vital we have a workforce with the right knowledge and skills. I look forward to receiving Professor Nutbrown's recommendations in the summer.
Notes:
1. The interim report on early education and childcare qualifications is published on the Nutbrown Review website along with the report from the call for evidence, which is also made public today.
Children's Minister Sarah Teather asked Cathy Nutbrown, Professor of Early Education at the University of Sheffield, to conduct an independent review on early education and childcare qualifications in October 2011.

To support her in developing her final recommendations, Professor Nutbrown today welcomes an additional four members to her Expert Panel: * Stuart Turner (National Childminding Association) * Purnima Tanuku (National Day Nurseries Association) * Sharon Curtis (Ellesmere Children's Centre, Sheffield) * Fiona Pethick (Ofqual).

The final report of the Nutbrown Review is expected in the summer.

To gather the views of the sector, Professor Nutbrown conducted a public call for evidence, which included: * 982 written responses to a public consultation. * Five regional consultation events - in Birmingham, Leeds, Bristol and two in London (around 40 attendees each) * A larger consultation event for stakeholders in Solihull (around 120 attendees). * An online survey of parents run by Netmums, to which 1,031 responses were submitted.
DfE enquiries
Central newsdesk 020 7783 8300
General enquiries 0370 000 2288
Published 13 March 2012