Professor Dirk Pfeiffer joins APHA
Eminent veterinary epidemiologist, Professor Dirk Pfeiffer, joins APHA as Chief Epidemiologist on a part-time secondment.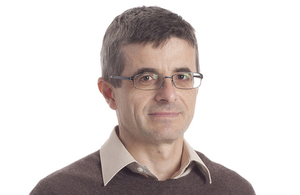 Professor Dirk Pfeiffer joined the agency on 1 June, and is currently Head of the Veterinary Epidemiology, Economics and Public Health Group at the Royal Veterinary College (RVC). He will work with APHA's epidemiological scientists to strengthen and develop epidemiological capability in the agency.
Kath Webster, Director of Scientific Services at APHA commented:
I am really pleased that Professor Pfeiffer is joining us. This is a marvellous opportunity for APHA scientists to draw on his experience and will help to strengthen our disease prevention planning and disease management capability.
Professor Pfeiffer is currently working on several projects covering animal health surveillance methods and animal diseases such as avian influenza, PPR (peste des petits ruminants) and African swine fever.
On joining APHA, Professor Pfeiffer added:
I am delighted to be taking on this exciting new role. I'm looking forward to leading and supporting scientists from across the agency in building epidemiological capability, keeping the agency at the forefront of disease planning and evaluation strategies.
Principal of the Royal Veterinary College, Professor Stuart Reid, commented:
We are excited that the College, through Professor Pfeiffer and his group, can work in partnership with APHA and contribute to work that will help to protect the UK's livestock industry from significant disease threats that it faces. Dirk brings experience, scientific excellence and leadership to what will be an exciting opportunity for all involved in the initiative.
Professor Pfeiffer is also Head of the United Nation's Food and Agriculture Organisation's Reference Centre in Veterinary Epidemiology at the RVC and a current member of the Exotic Disease Subgroup, Defra's Science Advisory Council, and has extensive experience in animal disease surveillance.
Published 4 June 2015