Private medics warned of pitfalls of breaking competition law
The CMA has today launched a campaign informing medical practitioners how to comply with competition law and the penalties for breaking it.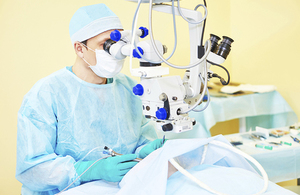 The campaign follows the £382,500 fine imposed on the Consultant Eye Surgeons Partnership (CESP) Ltd in August 2015 after it admitted infringing competition law between September 2008 and May 2015.
The Competition and Markets Authority (CMA) has published an open letter to private medical practitioners, alongside sending warning letters to Limited Liability Partnerships which were members of CESP. The CMA has also published additional advice to help practitioners, including a 60-second summary, to help them understand competition law and why it is in the best interests of themselves and their customers to comply.
Ann Pope, CMA Senior Director, Antitrust, said:
The eye surgeons case, coupled with the results of recent research, suggests that there is a worrying lack of knowledge about competition law, and the penalties that can be imposed for breaking it, amongst businesses, including medical practitioners. In cases where practitioners are acting anti-competitively in their private work, patients can ultimately suffer as they can end up paying more to receive treatment, either directly or via higher insurance costs.

We understand that most practitioners want to comply with the law and we are keen to assist them in doing so. That is why we are publishing this open letter and supporting advice, to help explain how competition law affects them and what they need to know to stay on the right side of the law.

We also welcome the assistance of the Federation of Independent Practitioner Organisations (FIPO) in helping to spread awareness of competition law risks amongst the medical profession.
Geoffrey Glazer, FIPO Chairman, said:
The CESP ruling carries important and far-reaching implications for all consultants working in the independent sector. As a consequence, we have taken this opportunity to reassert our commitment to competition law compliance and to remind consultants of their obligations under competition law. In this context and following engagement with the CMA we have published our own competition law guidance, coupled with some basic scenarios illustrating how consultants may, or may not, practice with regard to their fees and charging arrangements.
CESP Limited admitted competition law infringements including:
recommending that members refuse to accept lower fees offered by an insurer, and that they charge insured patients higher self-pay fees
circulating amongst its members detailed price lists for ophthalmic procedures such as cataract surgery to be used with insurers. These collectively set prices did not pass on lower local costs (such as cheaper hospital fees) and made it harder for insurers and patients to obtain competitive prices
facilitating the sharing of consultants' future pricing and business intentions, such as whether to sign up to a private hospital group's package price, which enabled members to align their responses
The letters and supporting materials all offer advice on what business practices may not be acceptable and also suggest that practitioners seek independent legal advice if anything is unclear.
In the most serious cases, businesses found to be in breach of competition law risk fines of up to 10% of turnover, while individuals could suffer up to 5 years in prison and disqualification from acting as a director.
Notes for editors
Published 3 December 2015