News story
Priorities for economic growth
In his first major speech as Secretary of State, Vince Cable has outlined how the Government will support business.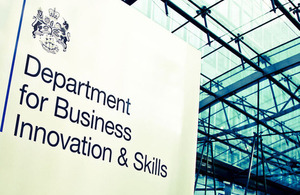 The speech to business leaders, at the Cass Business School in London, developed the ideas which Prime Minister David Cameron set out in his speech on the economy recently.
Dr Cable emphasised the deep-seated problems the country faces, particularly tackling the budget deficit, but reiterated that he saw BIS as the Department for Growth, complementary to the Treasury.
He said growth will come from the business sector, and trade in particular, which means that BIS's role is making sure that Britain is a good place to do business.
Dr Cable said: "The Department's central task, and my central task, is making sure that Britain is a place where enterprise and innovation are made easier and can succeed. Where ideas are generated and are turned into jobs. Where people have the skills we need."
Aan industrial policy that included picking 'winners' was unavoidable but the winners should be the sectors and skills the Government judges the UK will need for the future, he said.
The approach will be "supporting enterprise, but rarely selecting individual enterprises for support."
The key priorities set out in the speech include:
An agenda for cuts offset by a clear focus on policy to stimulate growth
"Our challenge is to redefine growth policy for an age of constrained public spending."

**Taking a tougher line on regulation **
"I believe that often the most useful thing governments can do for business is simply to get out of the way."

**Putting British Higher and Further Education on a sound footing for the future and linking both better into the economy
**"Bringing higher education, skills and enterprise together under the one departmental roof is central to the BIS dividend."

**Maximising the economic benefits of our science and research sector
**"BIS is the Ministry for science, and science is a vital public good - one that the market unprompted will not provide at the level needed in a modern knowledge economy."

**Crack some of the intractable problems which defeated previous governments, including Royal Mail
**"I want to see private capital and worker share ownership in the Royal Mail - commercial discipline alongside employee involvement."
Audio
Listen to the audio recording of Vince Cable's speech.
To view this content you need Flash enabled in your browser. Please download Flash from the Adobe download website.
Images
Links
Published 3 June 2010