Princess of Wales's soldiers patrol with Afghan Police
Troops from 1st Battalion The Princess of Wales's Royal Regiment (1 PWRR) have been carrying out security patrols recently in a small village in Helmand province alongside members of the local Afghan Police.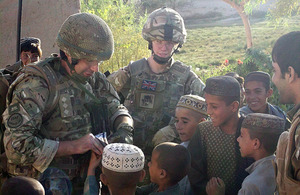 1 PWRR took over responsibility for the Police Mentoring and Advisory Group (PMAG) in Lashkar Gah in October and an advisory team from the PMAG is now working with the Afghan Uniform Police (AUP) in the village of Paind Kalay, in the south of the Nahr-e Saraj district of Helmand province.
The 1 PWRR soldiers in this advisory team are now living side-by-side with the local police force in the new village police station. The soldiers have been providing advice and training to the local police and pay regular visits to the police checkpoints around the village with the police commander.
Mirza Mohammed Alizai is the second-in-command of the police station. He said the presence of the Police Advisory Team along with the new police station has made a huge contribution to security around the village:
There has been a big change with the AUP in the last few years, and we've changed for the better," he said. "We have a good relationship with the local people and with ISAF and we work hard to look after the people of our village.
As part of living and working together, the British soldiers and Afghan police eat breakfast together and even work out in their outdoor gym, as well as playing football.
Inspector Adam Morris, of the Ministry of Defence Police, has been working with the AUP in Paind Kalay for the past six months. He said:
I've seen a big improvement in the standard of policing in that time. The police are a lot more proactive now. Instead of waiting around for an incident to occur, they are now actively patrolling and engaging with the local community.
Captain Giles Walsh co-ordinates the mentoring and training of the AUP in Paind Kalay. He said:
Things are improving so much now that we are able to move away from our forces mentoring and training the police as they are now taking on the responsibility for developing their own institution.
AUP patrolman Naqi Bullah Aliza said:
Our job is very important for the future of Afghanistan, and we try our best to bring security to the area. When I'm out patrolling I'm never scared because this is my country.
Published 7 November 2011