Prince William joins troops in Afghanistan for Remembrance Sunday service
Prince William visited British troops in Afghanistan today and joined them for a Remembrance Sunday service during which he laid a wreath in memory of the fallen.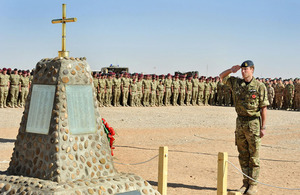 The Prince was joined by Defence Secretary Dr Liam Fox for the surprise visit to Camp Bastion, Helmand province, where they joined about 2,500 Service personnel for the Remembrance Sunday service in the camp's parade square.
A two minutes' silence was held, after which Prince William laid a wreath bearing the note: 'For Jo, Lex and all those who have made the ultimate sacrifice for our country.'
Prince William wrote an article which has been published in the Sunday Telegraph today in which he described how he is humbled by the respect shown for fallen heroes. In it he said:
The country is as fervent today in its support for our Armed Forces and the sacrifices that they make as it has ever been.
The awareness of what young men and women are doing for us in the most extreme and hostile environments imaginable is striking and moving. I find this remarkable and, frankly, humbling…
After the visit, Prince William said the occasion was extremely important to him, not only to remember personal friends he had lost, but everyone who has lost their lives in the line of duty.
Dr Fox said the service in Bastion had been particularly poignant:
I think there's a hugely added poignancy to being here because, when you're talking about the sacrifices, this is where they are made," he said.
This is where it's at its most raw, its most painful and its most proud.
There was a very different feel to being here. Prince William and I were very, very keen to come here and lend support to our forces when they need it.
He said troops were 'delighted' that Prince William had come to Afghanistan, adding:
We discussed how things are going here and it was actually a real privilege and honour to be with him here.
Before the service, Prince William met with some of the troops, including Sergeant Nick Rodgers serving with the Brigade Reconnaissance Force, 16 Air Assault Brigade, who said:
Its a big occasion all round - we've got to stay focused for the job in hand but it's still recognised throughout.
We know that he wants to be here; to be honest, he would rather be out fighting with us so it's good to see him here.
Private Steven Bell, from 5th Battalion The Royal Regiment of Scotland, met the Defence Secretary. He said:
It gives you some morale when you see someone taking their time to come and see you, especially when we've been here two months working long days.
Ranger Gareth Murdoch, from 1st Battalion The Royal Irish Regiment, said they only learned of the Prince's visit 15 minutes before he arrived:
It was a good surprise," he said. "It gives the boys a bit of morale, it's good to see the hierarchy coming to see us.
It's a big event, a very big event - it's great to see all the soldiers getting together and remembering our forebrothers.
Prince William and Dr Fox also met members of the Afghan National Army as well as Commonwealth troops.
After meeting troops, the Prince visited a hospital on the base before the service which was held just before 1100hrs.
On the hour, guns at Camp Bastion signalled the beginning and end of two minutes' silence.
Published 14 November 2010