News story
Prince Harry pays tribute on Remembrance Sunday in Kandahar
As the nation honoured the fallen of the two World Wars, Prince Harry paid a personal tribute in Afghanistan.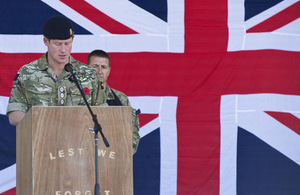 As the nation gathered this morning, 9 November, to pay its respects to the fallen of the 2 World Wars and conflicts throughout the subsequent decades, Prince Harry stood alongside service personnel in Kandahar, leading tributes on behalf of Her Majesty The Queen.


Prince Harry flew into Kandahar Airfield for the main Remembrance Sunday service as UK forces prepare for the final phase of the UK redeployment from southern Afghanistan.
As representative for Her Majesty The Queen, he laid a personal wreath and gave a reading before lining up with fellow servicemen and women for The Last Post and Reveille played by musicians from the Royal Artillery Band.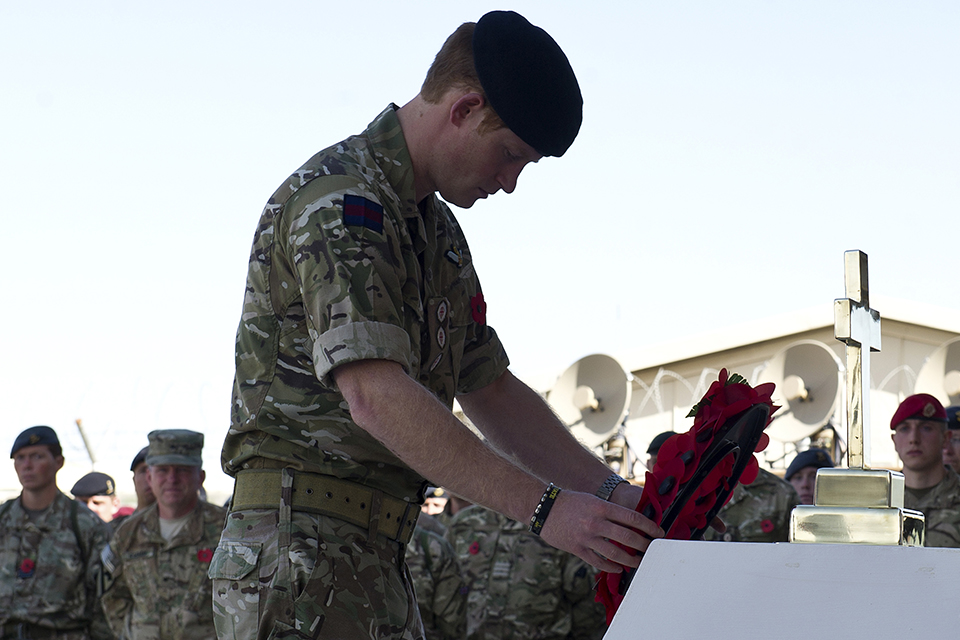 Reflecting upon the final Remembrance Sunday ceremony in southern Afghanistan Commander Joint Force Support (Afghanistan), Brigadier Darrell Amison, said:
Today, members of the Armed Forces and our civilian counterparts in Kandahar joined the nation in honouring the lives and sacrifice of the Fallen in Afghanistan, along with those who have lost their lives and been injured in the line of duty during the First World War and in conflicts since.

We will forever be in debt to all those who made the ultimate sacrifice. We will never forget their extraordinary courage and dedication, and our thoughts will always remain with the families and friends of those we have lost.
He continued:
The final Remembrance Sunday ceremony in southern Afghanistan has significant poignancy as we pay tribute to the 453 men and women who have given their lives since 2001, along with the many hundreds who have suffered life changing injuries.

We are incredibly proud of what they have achieved.

Thanks to their sacrifice, Afghanistan is a better country and we walk in safer streets at home in the UK. We Will Remember Them.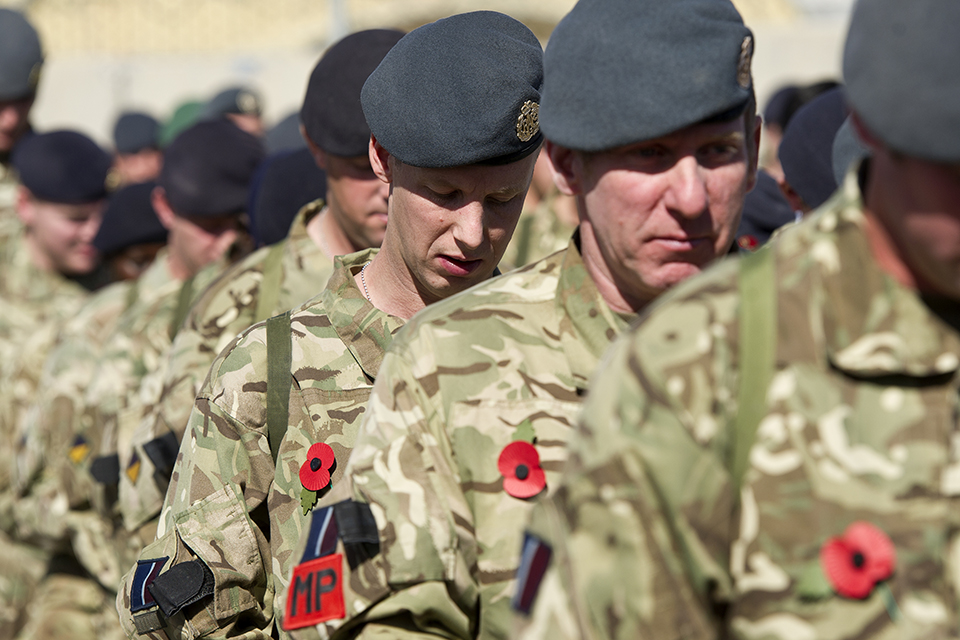 Following the ceremony Prince Harry took time to meet service personnel from Joint Force Support (Afghanistan) and 904 Expeditionary Air Wing, including members of 31 Squadron RAF serving their final tour of Afghanistan.
Climbing into a Tornado GR4 cockpit, he received a brief on how the aircraft has provided close air support to Afghan operations over the last few months.
Officer Commanding 31 Squadron, Wing Commander Richard Yates, said:
For me Remembrance is a very significant time of the year. It forms a link between those who fight in the conflicts of today, and those who fought in the conflicts of the past.

Thus it allows us all to remember the sacrifices made on our behalf by the generations that have gone before.
The trip also afforded an opportunity for the Prince to spend time with his old unit who he deployed with in 2012 and meet with Joint Aviation Group personnel to find out about their role in the final phase of UK operations in southern Afghanistan.
Published 9 November 2014