News story
Prince Harry completes tour of duty in Afghanistan
Captain Wales leaves Afghanistan after a successful tour as an Apache pilot.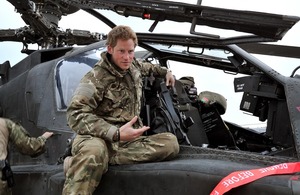 Prince Harry, known as Captain Wales in the military, has departed Afghanistan with his squadron after a successful tour as an Apache pilot.
He operated as part of the Joint Aviation Group which provides helicopter support to the International Security Assistance Force and Afghan forces operating throughout Regional Command (South West) in Helmand province.
Based out of Camp Bastion, the largest coalition military base in the country, 662 Squadron Army Air Corps, to which Captain Wales belongs, flew more than a hundred deliberate missions over 2,500 flying hours, providing surveillance, deterrence and, when required, close combat attack capabilities as well as escort duties for other aircraft.
Captain Wales qualified as a co-pilot gunner in February 2012. He was posted to 3 Regiment Army Air Corps, part of 16 Air Assault Brigade, to gain further flying experience and to operate the Apache on a number of exercises before deploying to Afghanistan in September 2012.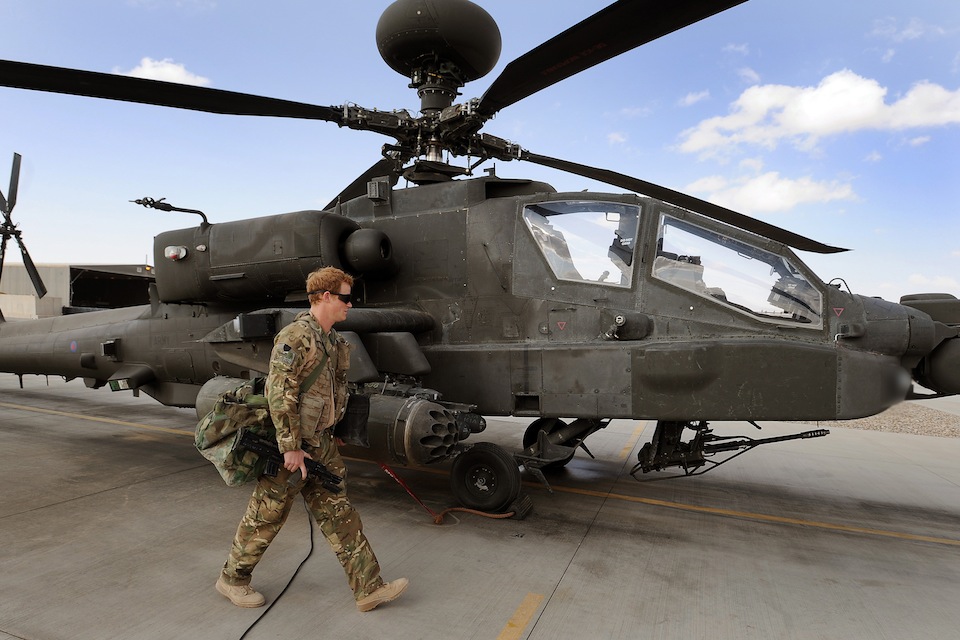 He has been trained to fly in the front seat as the mission or aircraft commander, a role that enables him to fly the aircraft if required, but the majority of the time involves operating the Apache's sights, sensors and weapons systems.
The Commanding Officer of 3 Regiment Army Air Corps in the UK, Lieutenant Colonel Tom de la Rue, said:
Captain Harry Wales has had an extremely successful operational tour as an Apache pilot. As his commanding officer I am truly proud of his achievements and those of every member of his squadron.
He will now return to 3 Regiment Army Air Corps and will have some much deserved post-operational tour leave. This will be followed by a return to training with 16 Air Assault Brigade.
Published 21 January 2013