Prince Harry begins Apache training in US
His Royal Highness Prince Harry arrived in the United States yesterday to undertake the final training exercise of his Apache helicopter Conversion to Role Course.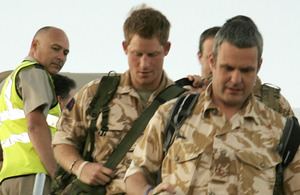 Captain Wales, as he is known in the military, will take part in Exercise Crimson Eagle, which is split between the El Centro Naval Air Facility in California and Gila Bend Air Force Auxiliary Field in Arizona, and will last approximately two months.
The exercise is a routine element of the Apache Conversion to Role Course that Prince Harry has been undertaking since April 2011.
The training in the US will initially be conducted from El Centro where the focus is on aviation environmental training and judgemental training during various tactical scenarios.
This entails handling the aircraft in mountainous and desert conditions, including dust landings and limited power training during the day and night. The exercise will then move to Gila Bend where Apache students undertake live firing exercises on the Barry M Goldwater Air Force Range complex.
The live firing phase of the exercise is the final assessment in weapons handling and combines months of intensive training in the simulator and aircraft to ensure pilots achieve their live firing qualifications.
These tactical exercises are designed for the Apache pilots to achieve 'limited combat ready' status and gain experience working in terrain and in altitudes similar to what the Apache crews may experience on deployments overseas.
Upon completion of Exercise Crimson Eagle, which marks the end of the Apache Conversion to Role Course, Prince Harry will return to the UK as a fully-trained Apache pilot.
He will then be assigned to one of the Apache squadrons within 16 Air Assault Brigade where he will gain wider experience flying Apaches and taking part in exercises in the United Kingdom.
Exercise Crimson Eagle has been conducted nine times in the United States by the Army Air Corps since 2006 and most recently between February and May 2011.
Prince Harry began his Apache training course in July 2010 with the Army Air Corps in Middle Wallop. He then moved to Wattisham Airfield in Suffolk in April 2011 to undertake the Conversion to Role Course.
The Apache AH Mk1 fleet consists of 67 aircraft and a number of these are deployed very successfully in support of UK and coalition forces in Afghanistan and Libya.
Its roles in Afghanistan are to provide deterrence and, when needed, close combat attack capabilities for ISAF forces, as well as escort duties for other aircraft.
The Apache attack helicopter is designed to hunt and destroy armoured vehicles. It can operate in all weathers, day and night, and can detect, classify and prioritise up to 256 potential targets in seconds through its fire control radar.
It carries a mix of weapons, including rockets, Hellfire missiles and a 30mm chain gun.
Published 7 October 2011