News story
Prime Minister's video message for Ramadan 2013
The Prime Minister has sent his best wishes to all Muslim communities in Britain and around the world at the start of the month of Ramadan.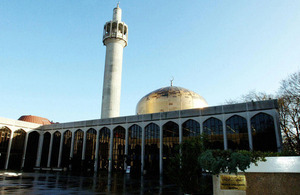 Prime Minister's video message for Ramadan 2013
Full transcript
I'd like to send my sincere greetings to everyone observing the Holy month of Ramadan.
This is a month which demonstrates the true spirit of Islam.
Muslims in Britain and around the world will sacrifice the day-to-day luxuries that we can take for granted, they will pray for people in need, and they will fast to show devotion to God and recognise those who go hungry in our world.


I am very proud to be Prime Minister of a nation in which people can freely practise their beliefs.
And it should be a source of pride to all Muslims that this month, even those living with extreme hardships will give up the little they have and pray for others.
Many will be praying for Muslims around the world. Those caught up in conflict, those who are seeking justice and democracy, or those living in the poorest regions on earth, who struggle to get by day to day.
As Prime Minister I am delighted that the British Government has been able to keep its promise to invest 0.7% of our gross national income on helping the world's poorest and I am grateful that we have been able to partner with Muslim and other organisations to help those in need overseas.


Ramadan is a shining example of how humanity can come together in a positive way for a common good, and I pay tribute to all those who take part. 

To Muslims at home and overseas I wish you: Ramadan Kareem!
Published 9 July 2013