Prime Minister welcomes Turkish Prime Minister to Number 10
Prime Minister David Cameron and Turkish Prime Minister Recep Tayyip Erdo?an announced the establishment of a new British-Turkish Forum to be known as "Tatli Dil".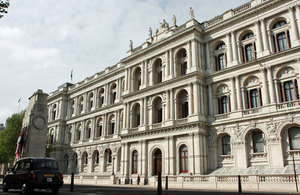 The two Prime Ministers hosted UK and Turkish CEOs and invited them to inaugurate the UK-Turkey CEO Forum.
Mr Erdo?an's visit follows from the Prime Minister's visit to Turkey last year and demonstrates the growing strength of UK-Turkey relations. The two countries are close partners across a range of international, political and economic issues including current events in the Middle East and North Africa, trade, energy, education and counter- terrorism.
The two countries established a new strategic partnership last year. At the heart of this is a shared commitment to boost trade and investment and further strengthen the UK-Turkish relationship across a broad spectrum of issues ranging from counter-terrorism to education.
Today's meeting brings together top UK and Turkish businesses to discuss ways to increase trade and investment flows.
Prime Ministers Erdo?an and Cameron also announced a new British-Turkish Forum, Tatli Dil. This will bring together senior figures from business, media, academia, politics and the arts, to create networks, exchange ideas and further strengthen the relationship that exists between Turkey and the United Kingdom. The inaugural event will take place in October this year.
Mr Erdo?an is visiting the UK from 30-31 March and is accompanied by a large Ministerial and high level business delegation from Turkey.
Vittorio Colao, Chief Executive Officer, Vodafone Group, said:
"Our subsidiary in Turkey is the fastest growing operating company within the Vodafone Group and we are very proud of our participation in such a dynamic and growing economy. Turkey's youthful population has embraced the possibilities provided by the mobile telecommunications sector, making this an important market in which to launch innovative products and services."
Suzan Sabanc? Dinçer, Co-Chairperson, DEIK/Turkish-British Business Council, said:
"Investors have woken up to the enormous synergy between Turkey and the UK. Britain is a sophisticated financial centre and the gateway to Europe for many Turkish firms. Turkey is Europe's fastest growing economy and a market British companies cannot afford to overlook."
Published 31 March 2011