Prime Minister welcomes Prime Minister of Spain
Prime Minister David Cameron welcomed his Spanish counterpart Jose Luis Zapatero to Downing Street on 25 July.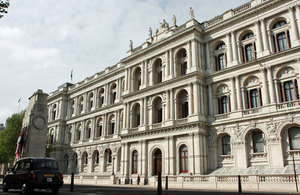 The two leaders discussed a number of issues, including threats to security following the tragedy in Norway; the economy and creating jobs and prosperity; progress in Libya; and assistance for the famine in the Horn of Africa.
In a press conference following their meeting, Mr Cameron said that Britain shared in "the sorrow and the anger" over the attacks in Norway and would review its own security at home in the wake of the killings.
"Britain and Spain have both been victims of horrific acts of terrorism in the past and I know that both of us will be offering every support that we can to Norway in the days ahead."
The Prime Minister chaired a meeting of the National Security Council earlier today, which looked at the implications for Britain of the bombing and mass shooting.
On the economy, Mr Cameron said Britain and Spain wanted to see "quick, bold and practical action" to get European economies growing and creating jobs.
He said trade between the UK and Spain was already worth more than £30 billion every year but the two countries wanted to do more. The PM announced that in the autumn the UK and Spain will bring together leading business and policy makers to deliver an action plan to support business between the two economies.
On the famine in the Horn of Africa, Mr Cameron welcomed the Spanish Government's announcement of funding and the charitable donations given by the British people but said the UN still needed $300 million in the next two months in Somalia.
"It is now time for others who have the means - in Europe and elsewhere - to do more.
"And I hope that today's meeting in Rome will produce significant new contributions from other countries. We can still save millions of lives but the world must act fast."
Published 25 July 2011