Prime Minister visits Afghanistan
UK will have a long-term relationship with Afghanistan after combat troops leave in 2015.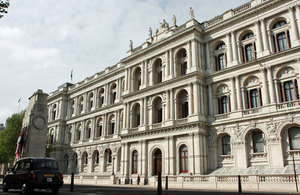 The Prime Minister, David Cameron, underlined the UK's long term commitment to Afghanistan during a visit to the country on 4-5 July.
In Kabul, the Prime Minister held bilateral discussions with President Karzai, and met the Chair of the High Peace Council, Professor Rabbani to discuss efforts on reconciliation. He also held a meeting with the Speaker and Deputy Speakers of the Afghan Parliament. Earlier in the visit he held discussions with Governor Mangal of Helmand Province where most of the UK's civilian and military efforts in Afghanistan are focused.
In a joint press conference with President Karzai, the Prime Minister welcomed progress made in Afghanistan and noted that the country was "on track" for transition. He explained that there would be no UK combat troops in Afghanistan by the end of 2014 when Afghan forces take over responsibility for security across the country. However the UK and Afghanistan would continue to have a strong partnership which would include some military elements.
The Prime Minister said:
"We will have a relationship that will consist of our very large aid programme, and it's quite right we have a large aid programme in your country, as we help you to build its future - a relationship based around trade, based around diplomacy, and yes, also based around military training".
The Prime Minister and President Karzai announced the creation of a military academy, modelled on Britain's Sandhurst, to provide the Afghan army officers of the future. The UK will provide some 120 troops to help with training at the academy which will open in 2013 with 1350 new recruits each year.
President Karzai welcomed the UK's efforts to support the development of Afghan security forces. He said:
"It is the responsibility of the Afghan forces to protect the Afghan people and its national territory. The circumstances that led Afghanistan to where it was in 2001 is a different story. But Afghanistan wants to take ownership of its own protection and security to be able to move towards a prosperous and democratic future. While the issue of reduction of the international troops is discussed, it is the responsibility of the Afghan government to pave the way and allow for no obstacles for the Afghans to protect their country".
On his return to the UK, the Prime Minister has updated the UK's Parliament on progress in Afghanistan. In a statement to the House of Commons he announced that 500 UK troops will be withdrawn from Afghanistan by the end of 2012 as the country gears up towards transition.
"These reductions reflect the progress that is being made in building up the ANSF", he said.
Published 7 July 2011