Prime Minister tours Far East
Prime Minister David Cameron is touring the Far East to promote UK investment and trade.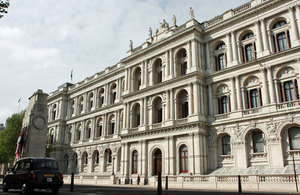 Prime Minister David Cameron is in Burma as part of a four-day trade tour of Japan and South East Asia, and is accompanied by a senior business delegation in a bid to help UK companies break into this fast-growing economic power.
13 April: Burma
Prime Minister David Cameron continues his tour today in Burma. You can follow the latest news on the visit here and on the Number 10 website.
12 April: Malaysia
The Prime Minster and Malaysian Prime Minister agreed to double bilateral trade by 2016 to £8bn.
Malaysia, truly Asia: blog from British High Commission in Kuala Lumpur
11 April: Indonesia
The Prime Minister met with the Indonesian President, Susilo Bambang Yudhoyono and joined senior representatives from Airbus in the Indonesian capital Jakarta to sign a major deal for 11 new aircraft with national carrier Garuda Indonesia.
The wings for the aircraft are built at the Airbus plant in Broughton, north Wales and designed at the Airbus plant in Filton, near Bristol.
Number 10: David Cameron welcomes Airbus deal
Blog by Ambassador Mark Canning: Selamat datang (welcome) PM David Cameron
10 April : Japan
The visit began on 10 April in Japan, where the Prime Minister met His Imperial Majesty the Emperor of Japan, and Japan's Prime Minister Noda.
Prime Minister David Cameron also visited the Nissan headquarters in Yokohama, where the leading car manufacturer announced that they will produce their all-new hatchback at their Sunderland plant from 2014.
Number 10: Prime Minister welcomes Nissan jobs
Blog by Ambassador David Warren: Japan is blooming again
Published 13 April 2012