Prime Minister pays flying visit to Olympics air security personnel
The Prime Minister visited personnel from the Royal Air Force and Royal Navy yesterday to say thank you for their contribution to delivering a safe Olympic Games.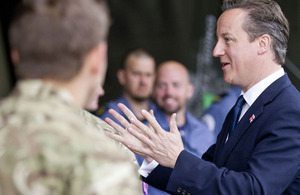 Prime Minister David Cameron visited RAF Northolt, west of London, one of the major military hubs delivering air security and from where RAF Typhoon fighters are on standby around the clock to intercept unidentified aircraft entering the restricted airspace, helping to ensure a secure Games for everyone to enjoy.
RAF Typhoons provide a Quick Reaction Alert all year round from bases in Scotland and Lincolnshire, but four of the multi-role jets have been deployed to Northolt as part of the enhanced airspace security measures put in place for the Games
Whilst at the base, the Prime Minister spoke to pilots and ground crew working with the RAF Typhoon detachment, and he also met Royal Navy personnel operating radar-equipped Sea King Airborne Surveillance and Control helicopters.
These specialist helicopters provide an extra 'eye in the sky' at any location around the capital, helping air commanders differentiate between potentially hostile aircraft and those that may simply be lost.
The Prime Minister said:
We all want to have a safe Olympics and troops up and down the country are playing a vital role.
Last week I met those working on HMS Ocean on the Thames; today I wanted to come and express my appreciation for the hard work by all those at RAF Northolt who are helping to keep the skies across the country safe.
The deployments - the first time that RAF fighters have operated from Northolt since the Second World War, and an unusual UK land-based operation for the Sea King - are supported by a wide range of personnel. Some of them, from engineering and communications units, were also able to meet the Prime Minister.
Squadron Leader Paul 'Boomer' Ward, the Typhoon detachment commander, said:
It was a great privilege to meet the Prime Minister and to talk to him about our role providing Olympics air security. He was very interested to hear how the RAF's Typhoons are ready to scramble as part of our multilayered air security plan to provide a safe and secure Games for everyone to enjoy.
Published 1 August 2012