Press release
Prime Minister opens biggest UK trade fair in over 60 years
UK companies have agreed new trade and investment deals worth over £200 million which will create or safeguard more than 800 UK jobs.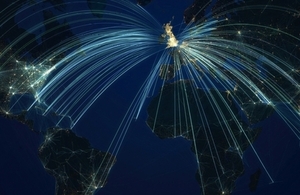 The Prime Minister David Cameron will speak today (9 June 2014) at the launch of the International Festival for Business (IFB) as UK companies have agreed new trade and investment deals worth over £200 million which will create or safeguard more than 800 UK jobs.
Today's announcements include:
Volkswagen Financial Services creating 340 jobs in Milton Keynes
Heineken investing £50 million, safeguarding 240 jobs in Manchester
Multimatic car manufacturers creating 232 R&D and manufacturing jobs in Coventry and Norfolk
The IFB is the biggest trade fair in the UK in over 60 years and will be the biggest festival of business events globally in 2014. UK Trade and Investment (UKTI) has organised the British Business Embassy which will launch the festival and showcase what Britain has to offer to international business leaders and decision makers.
Over 50 days a quarter of a million people from 80 countries will take part in more than 200 events promoting manufacturing, technology, science and more. That's 6 weeks of deals being done and a predicted potential value of £100 million to the UK economy.
Speaking to an audience of 250 CEOs at the British Business Embassy in Liverpool, Prime Minister David Cameron said:
Success in international markets is a key part of this government's long term economic plan. The International Festival for Business further demonstrates to the world that Britain's doors are wide open to business, with investment taking place across the UK, helping to rebalance the economy.

UKTI will continue to work tirelessly with our Great British businesses to drum up trade and to encourage investment from around the globe. That's the way we'll create jobs and provide economic security for our future.
The Prime Minister's speech comes on the back of further strengthening economic news today. A report from Ernst & Young today confirms that Britain is the most attractive place in Europe to invest – ahead of Germany and accounting for 20% of all investment projects in Europe. Meanwhile figures from EEF show that more UK manufacturers are confident about their growth prospects over the next 3 months than at any time since the financial crisis.
The British Business Embassy will take place in St George's Hall, Liverpool and will demonstrate the UK's strengths in the manufacturing, automotive, advanced engineering and aerospace sectors. UKTI will be hosting 16 events during the IFB – 9 sector events and 7 country events, highlighting opportunities in key markets.
In the last year, UKTI announced today it has helped over 40,000 businesses to export and helped UK companies win £21.7 billion of new business.
Lord Livingston, Minister of State for Trade and Investment, said:
The UK is increasingly seen as a great place to do business and confidence among our exporters is at near record highs.

The International Festival for Business and the British Business Embassy will provide perfect opportunities to show to a global audience what the UK has to offer.

UKTI will be working hard to help more British firms find new international customers and encouraging more companies to set up and grow their business here.
The new Chief Executive for UKTI, Dominic Jermey, will attend the British Business Embassy on his first day in the job. Dominic was formerly the British Ambassador to the UAE where he helped secure billions of pounds worth of new orders for UK firms and of investment into the UK.
Dominic Jermey said:
The North West of England's strong business heritage and diverse business base makes it the perfect location to show to the world what Britain has to offer through the International Festival for Business.

This is an exciting time to be back working for UKTI helping more companies win business abroad and showing international firms why we are the perfect place to set up and grow.
Notes to editors
BIS and UKTI partnered with the IFB to deliver the 50-day festival that will connect UK businesses to new markets, products and international partners. BIS provided £5 million towards the IFB as part of the Liverpool City Deal.
The IFB is the UK's largest business event in the UK during 2014. With support from BIS, UKTI, FSB, FPB, BT and CBI the 50-day business event will highlight the benefits of exporting for businesses large and small with more than 200 events running back-to-back. The festival is part of the government's ambition to promote economic growth, rebalance the economy and double UK exports by 2020.
UKTI is holding 16 events across the IFB. Market events include Africa, Latin America, Europe, China, Hong Kong and South East Asia. Sector events include ICT, food and drink, advanced manufacturing, marine engineering, low carbon/renewables and creative/digital.
Speakers at the British Business Embassy include the Prime Minister David Cameron, UKTI Ambassadors Ron Dennis, chairman of McLaren, Steve Varley CEO at UK Ernst and Young, Ana Botin, CEO at Santander UK, Sir Terry Leahy and Lord Heseltine.
BIS is leading a Manufacturing Summit on 19 June 2014 in the North West which will be attended by around 400 delegates. The government's industrial strategy is giving business the confidence to invest, creating more high-skilled, long-term jobs in the UK.
UK Trade and Investment (UKTI) is the government department that helps UK-based companies succeed in the global economy. We also help overseas companies bring their high quality investment to the UK's economy. We also help overseas companies bring their high quality investment to the UK's economy – acknowledged as Europe's best place from which to succeed in global business. UKTI offers expertise and contacts through its extensive network of specialists in the UK, and in British embassies and other diplomatic offices around the world. We provide companies with the tools they require to be competitive on the world stage. UK workforce is employed in science-based occupations within research and related industries.
In the 2014 Budget UKTI announced further investment of £2.4 million to extend its Global Entrepreneur Programme to attract more of the world's fast growth businesses to the UK.
UK Export Finance announced it will double investment in its Direct Lending Scheme to £3 billion, launch a consultation to boost UK exports, launch its Export Refinancing Facility in April 2014 and increase its direct marketing activity.
During the Chancellor of the Exchequer's trip to Brazil, in April 2014's Export Week, he announced further funding for UKTI:

UK Trade and Investment (UKTI) will invest £4 million a year to triple the number of mid-size business advisors to support the export ambitions of 3,000 companies, as part of its new strategy
UKTI will invest a further £2 million a year to increase its presence in Latin America to mirror the successful expansion strategy it has pursued in China
Published 9 June 2014