Prime Minister on the 16th anniversary of the Srebrenica massacre
Prime Minister David Cameron offers 'deepest sympathy' on 16th anniversary of Srebrenica massacre as Baroness Warsi attends ceremony.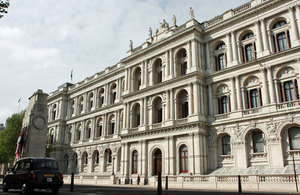 Speaking on the occasion of the 16th anniversary of the genocide, in which over 8000 people were killed the Prime Minister said:
"Today marks the 16th anniversary of the massacre of over 8000 Bosniak men and boys at Srebrenica. And today, at the Potocari Memorial Centre over 600 victims of the genocide will be buried, their remains having finally been identified.
Baroness Warsi of Dewsbury is representing me and my government at the commemorations in Srebrenica. Our thoughts and sympathies are with the friends and families of the victims of Srebrenica and with all those who lost loved ones during this conflict.
I want to take this chance to restate my conviction that the world must never again allow such atrocities to occur unopposed and my determination that justice will seek out any who choose such barbaric paths.
There has been considerable progress towards regional reconciliation in recent years, and many of those responsible for war crimes in the Balkans have already faced justice.
The recent arrest of Ratko Mladic shows that the international community will remain unflinching in its commitment to bringing to justice those responsible for war crimes. On this occasion last year, I emphasised the United Kingdom's determination that Ratko Mladic should face justice at the International Criminal Tribunal in The Hague. One year later, I welcome the fact that this is now the reality and that legal proceedings are underway in respect of the monstrous crimes of which he stands accused.
While this judicial process can never compensate the bereaved for the losses they continue to bear, I hope that Mladic's arrest will mark a turning point for all the countries of the Western Balkans and the start of a new chapter of cooperation, harmony and progress."
The anniversary will be marked with a ceremony in Srebrenica on 11 July. Baroness Sayeeda Warsi will represent the British government at the ceremony.
Published 11 July 2011