Prime Minister on latest developments in Libya
Prime Minister David Cameron has spoken about the current situation in Libya and the international community's response.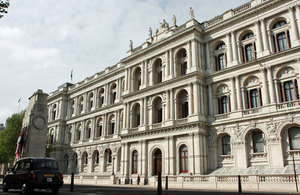 Programme: BBC News
Date: Saturday 19 March 2011**
David Cameron, Prime Minister**: Well, this was a successful coming together of countries, including Arab countries, who want to enforce the will of the United Nations and what is absolutely clear today is that Colonel Gaddafi has broken his word, has broken the ceasefire and continues to slaughter his own civilians. This has to stop. We have to make it stop. We have to make him face the consequences. So I think it is vitally important that action takes place, that action takes place urgently.
Obviously at this time, our thoughts should be with be with those who are going to risk their lives to help save the lives of others, but I think it's vitally important, with the United Nations behind us, with the clear legality of this action and with local countries supporting as well; it is right to act. Of course there are dangers, there are difficulties. There will always be unforeseen consequences from taking action. But it is better to take this action than to risk the consequences of inaction, which is a further slaughter of civilians and this dictator completely flouting the United Nations and its will.
**
Unnamed reporter**: Prime Minister, does this now mean that… military action is inevitable?
DC: Well, Colonel Gaddafi has made this happen. He has lied to the international community, he has promised a ceasefire, he has broken that ceasefire, he continues to brutalise his own people and so the time for action has come. It needs to be urgent and we have to enforce the will of the United Nations and we cannot allow the slaughter of civilians to continue. Thank you; I think I'll leave it there. Thank you very much.
Published 19 March 2011