Prime Minister inspects new carrier construction
The Prime Minister, David Cameron, visited Rosyth dockyard yesterday to see the work taking place to build the first of the two new Queen Elizabeth Class aircraft carriers.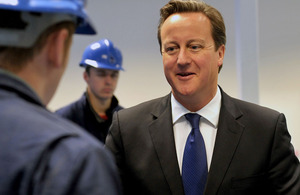 Arriving at 1100hrs on Monday, the Prime Minister met around 200 people working on the project which will see the country's most powerful ever warship, HMS Queen Elizabeth, handed over to the Ministry of Defence in 2016.
Huge at 280 metres in length, 65,000 tonnes and capable of embarking 40 aircraft - twice the capacity of HMS Illustrious - the aircraft carrier is being constructed at shipyards across the country and assembled at Rosyth.
Addressing the workers, Mr Cameron said:
I think this is the success story that the whole of the United Kingdom can take great pride in.
Just as the Olympics showed what we can do when we come together, you're showing it right here in Rosyth with this incredible feat of engineering.
This has been and still is an immense task and, as soon as you have completed this aircraft carrier, the Prince of Wales will follow, and I am very proud to be standing here and to say thank you to you.
As was said at the Olympics, we want to make sure 'Made in the United Kingdom' is a badge we can be really proud of and I believe that, with these aircraft carriers, you here in Rosyth are making it absolutely clear that it is something we can all be really proud of.
Mr Cameron's visit coincided with the moving of the aft - or back - section of the hull onto one of the two largest barges in the world at Govan shipyard, ready for its move to Rosyth on 3 November.
This will be the final hull section of HMS Queen Elizabeth to arrive at the dockyard where BAE Systems and Babcock are working together to put all the sections together.
Production of the second carrier, HMS Prince of Wales, has also started at Govan and Portsmouth dockyards.
Angus Holt, Queen Elizabeth Class Block Delivery Director at BAE Systems, said:
Today marks the culmination of months of hard work and preparation and I am extremely proud of the team's achievements in successfully loading out the aft section on time and built to an exceptional standard.
The sheer size and complexity of the block both highlights the skill Clyde and the huge amount of progress which we continue to make deliver the nation's flagships.
The vessels are being delivered by the Aircraft Carrier Alliance, a partnership between BAE Systems, Thales UK, Babcock and the Ministry of Defence.
Published 16 October 2012