Prime Minister in Afghanistan
Prime Minister pledges further UK support on visit to Afghanistan.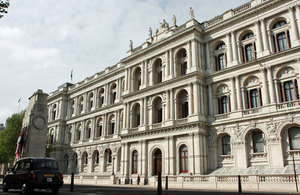 During his first visit to Afghanistan since the formation of the Coalition Government, the Prime Minister committed extra resources for British troops to deal with roadside bombs.
The Prime Minister also announced additional funding for policing, education, jobs and governance reform in Afghanistan.
During a joint press conference with Afghan President Hamid Karzai in Kabul, Mr Cameron said an additional £67 million will be provided to troops to help them counter improvised explosive devices (IEDs).
Speaking about UK engagement in Afghanistan, the Prime Minister emphasised the importance of the relationship between the two countries and that Afghanistan is Britain's most important foreign policy and national security issue.
The Foreign Secretary set out Afghanistan as the top foreign policy priority at the Foreign Affairs and Defence debate following Her Majesty the Queen's speech at the official state opening of Parliament on 26 May.
The Foreign Secretary said:
"Our objective in Afghanistan can be expressed quite simply. It is to help Afghans to reach the point at which they can look after their own security without presenting a danger to the rest of the world, with the Afghan security forces and the Afghan state capable of withstanding the range of security threats that are currently present in their country."
Read more about the Prime Minister's visit on the Number 10 website.
Published 10 June 2010