Prime Minister hails "huge opportunity" for UK/Korea trade
British Prime Minister David Cameron has welcomed the coming into force of the EU/Korea Free Trade Agreement and the opportunity it represents to develop the UK's bilateral relationship with Korea.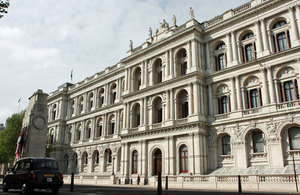 The landmark deal is the first of its kind between the EU and an Asian market. It will reduce tariffs across 97% of all goods and services and is likely to result in a stepchange in the levels of bilateral trade between the UK and Korea. Korean companies will find it more attractive to invest in the UK in areas such as renewable energy, finance, life sciences and ICT. Korean consumers will find a wider range of British goods available in Korea, from Scotch whisky to luxury cars and high-end fashion.
Prime Minister David Cameron said:
"This landmark EU-Korea Free Trade Agreement marks a significant development in the UK's bilateral relationship with Korea and represents a huge opportunity to increase trade between our two countries, to the benefit of business, consumers and economic growth.
"Korea has been one of Asia's fastest growing economies in recent years but British companies have faced challenges to enter the market in the past. This Agreement, which is the most comprehensive FTA the EU has ever negotiated, dismantles those barriers and gives British business, large and small, an enormous opportunity to boost exports. I hope they will rise to the challenge.
"Having attracted some £2.25 billion of Korean investment in 2010 - more than double that of any other European country - I hope that this agreement will result in even more Korean businesses choosing the UK as a platform to grow their business. It's essential that we get the message out that Britain is open for business."
Business Secretary Vince Cable said:
"During my recent visit to Korea, I was very encouraged to meet many British firms who are already successfully exporting and investing in this market.
"Korea is set to make the 10th largest contribution to world growth over the next five years and will become one of the most attractive export destinations globally. British companies that are serious about growing their business internationally should seize the opportunities that have been created by the Free Trade Agreement, as there has never been a better time to engage with this market."
Korea Fact file:
(South) Korea is Asia's 4th largest economy and the 12th largest in the world.
Bilateral trade with the UK is worth around £10bn per year.
The UK was the number three destination for Korean overseas investment in 2010, and the number one inward investment destination in Europe.
The EU-Korea Free Trade Agreement (FTA), due to come into force on 1 July 2011, is expected to be worth £16bn to European exporters.
The UK attracted around £2.25billion of Korean Investment in 2010; more than double any other European country.
More than 200 Korean companies are already doing business in the UK. The largest investors include Doosan, Korea National Oil Company, Samsung and LG Electronics.
Samsung, the world's largest electronics company, has a turnover greater than that of Apple, Google and Microsoft put together.
Korea has the highest level of broadband penetration (speeds of one hundred megabytes) and 3G mobile usage in the world (an area where it has a global lead in technology).
There are 15 Korean companies listed on the London Stock Exchange.
Published 1 July 2011