Press release
Prime Minister hails 1,800 jobs in Britain at UK Investment Summit
Prime Minister David Cameron announces more than £240 million of new investment across the UK and 1,800 new and safeguarded jobs.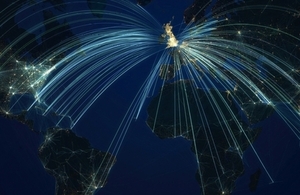 Prime Minister David Cameron has today (21 November 2014) announced more than £240 million of new investment across the UK and 1,800 new and safeguarded jobs at the UK UK Investment Summit 2014 in Newport, Wales.
UK and Welsh governments have also joined forces with leading aircraft manufacturer Airbus to announce a joint investment of more than £100 million into research, development and training which will ensure the UK continues to lead the world in aerospace.
Around £64 million of the £100 million plus investment will support research and development through the Aerospace Technology Institute on a range of projects aimed at streamlining manufacturing processes and developing new technologies.
A total of £48 million is being invested in a project at the Broughton plant in North Wales which will develop new systems and technologies for building aircraft wings.
The announcements follow a record year for investment in the UK during 2013 to 2014 with latest UK Trade and Investment figures showing more than 66,000 new jobs created or safeguarded – the highest since 2001 – and 10,000 in Wales alone.
The news comes as work begins on the first phase of a £250 million expansion at Dyson's hi-tech facility at the Malmesbury site which will create up to 3,000 jobs.
Prime Minister David Cameron said:
Two months ago I hosted world leaders in Newport for the NATO Summit where we left united in purpose, with a stronger alliance, and better able to keep our people safe. Today's investment summit, which will see more than 150 business leaders from international companies gather in Newport, is part of our plan to build on this legacy, attract trade and investment, and secure a brighter future for all of Britain. This investment is a vote of confidence in our long-term economic plan and the jobs it will create and safeguard in Wales and across the UK means financial security for more hardworking families.
Hosted by UK and Welsh governments, the UK Investment Summit is taking place today at Newport's Celtic Manor. It aims to build on the legacy of the NATO Summit that was held at the same venue in September, and confirms the government's pledge to boost the UK economy by encouraging companies to invest in the UK.
More than 150 business leaders from international companies are gathering at Celtic Manor to celebrate Britain's overseas investment performance, forge new links, develop new ideas and explore new opportunities.
Wales is developing as a leading force in innovation, cyber security and research and development, attracting global brands. Toyota manufactures its hybrid engines and Airbus manufactures the wings of every A380 aircraft in Wales. It has been a record year for Welsh foreign direct investment for 2013 to 2014 with 79 foreign direct investment projects. All this has helped make the Welsh economy worth £47 billion according to latest figures (2012).
Deals announced include:
Two leading international suppliers of offshore wind foundations, EEW SPC of Germany and Bladt Industries of Denmark, have announced an investment of up to £30 million for the acquisition and upgrade of the former TAG Energy facility in Teesside. The facility, which will become a key part of the European manufacturing base for the firms, is envisioned to generate up to 350 direct jobs in the local area, as well as a significant additional number of jobs in the local supply chain
German manufacturer Kärcher will build its new UK HQ, Academy and Customer Experience Centre at Banbury Point. The overall investment value is £19 million over 3 years, creating more than 50 new jobs as well as improved facilities for UK staff and customers.
automotive components manufacturer, Gestamp, has invested a further £13 million at its Fareham facility, helping to create 112 jobs by 2015.
Belgian-owned Pinguin Foods which produces a range of frozen vegetables, fruits and convenience food, has committed a £20 million investment into the UK after purchasing both sites it previously leased in King's Lynn, Norfolk and Boston, Lincolnshire. This has anchored the company in the UK and safeguarded 198 jobs in King's Lynn and 51 jobs in Boston, securing a total of 249 jobs.
South African insurance company, MMI Holdings, are expanding their Bristol base, opening a new 120 person facility after acquiring UK Bristol-based fintech company, Blue Speck Financial Ltd. Around 100 new jobs will be created over the next 3 years with the opening of the new technology offices.
Cummins, a leading manufacturer of diesel engines and related components, has announced a further £10.4 million investment into its production and development facility in Darlington, County Durham, creating 66 new jobs and safeguarding 725. £1.04 million of the investment came from an RGF grant awarded by BIS.
AIC Steel, the UK / Newport based arm of international structural steel firm AIC Steel Group has announced plans to create 40 additional jobs by December 2014.
Trade and Investment Minister Lord Livingston said:
This summit provides a great platform to highlight opportunities across the UK. Inward investment to the UK is already at record levels with Wales in particular achieving strong growth. Investment is flowing from companies around the world into manufacturing, services and infrastructure reflecting the UK's position as one of the best places to do business in the world.
The theme of the summit is technology and how technological advances have the ability to transform our everyday lives and the global economy.
The UK will demonstrate its ground-breaking innovation and business opportunities at the summit. Examples of UK innovation and skills will also be on display, including the world's first 3D printed metal bike frame, a Scubacraft, the Space Saving Desk Table and the 4 Wheel Gravity Bike.
Secretary of State for Wales Stephen Crabb said:
Innovation and manufacturing are at the heart of the North Wales economy and Airbus is a fantastic success story for the area.

Today's announcement means the company can now manufacture more of the world's most technologically advanced aircraft wings right here in Wales.

Companies like Airbus are key to the success of our long-term economic plan – helping us rebalance the economy and creating jobs and prosperity for people in Wales.
Headline speakers at the event include Executive Vice President Programmes at Airbus, Tom Williams; CEO of Pinewood Studios, Ivan Dunleavy; Chair of Hitachi Europe, Sir Stephen Gomersall and Eben Upton, Founder of Raspberry Pi.
The conference will consider how businesses must ride ahead of the technology wave by developing agile and fluid strategies to ensure competitiveness in the global marketplace.
Notes to editors
For more information please visit UK Investment Summit Wales 2014 Twitter: #InvestinWales2014
Other deals announced during the summit include:

Portuguese company, Vision Box, has increased its workforce by 8 after investing £4.9 million at a biometric data collection office in Bracknell.
Estonian cloud based software company, Insly, has announced a £2 million planned expansion of its London office, creating at least 25 new jobs over the next 3 years.
Danish integrated energy firm, DONG Energy, has awarded Wallingford-based Fugro GeoConsulting a £13 million contract to provide the geotechnical assessment for the 1.2 gigawatt Hornsea offshore wind farm. The investment is expected to contribute significantly to Fugro GeoConsulting's workload in 2015 and underpins Fugro's £1 million investment in expanding its geotechnical laboratory at Wallingford, designed to service projects such as Hornsea One.
Chinese IT firm, TP-LINK, has announced a £6 million expansion at its Reading site, and the creation of 26 new jobs. The company has also confirmed that the site is now its HQ for Western Europe alongside its German office.
US-owned cyber security firm, Dtex Systems, has announced expansion into EMEA and the US, creating new export opportunities for the UK business which has now become the regional headquarters for Europe, the Middle East and Africa. It expects the economic value to the UK to be £22 million over 3 years, providing 4 new jobs within 6 months.
the Austrian privately owned company Alpla, a global manufacturer of plastic bottles, closure systems and pre-forms, has announced a £3.7 million investment into its Golborne operation situated within the Wigan borough. This investment will enable the expansion of the UK operation and the creation of up to 45 new jobs in the future.
Unity Technologies, the company behind leading games development platform 'Unity' are creating a further 50 jobs at their office in Brighton which will cover positions in European business development, worldwide technical support, development, plus learning and marketing content.

UKTI's Inward Investment Annual Report can be accessed at UKTI inward investment report 2013 to 2014.
UK Trade and Investment (UKTI) is the government department that helps UK-based companies succeed in the global economy. It also helps overseas companies bring their high quality investment to the UK's economy – acknowledged as Europe's best place from which to succeed in global business. UKTI offers expertise and contacts through its extensive network of specialists in the UK, and in British embassies and other diplomatic offices around the world. It provides companies with the tools they require to be competitive on the world stage.
Published 21 November 2014