Prime Minister & Foreign Secretary comment on the recent developments in Egypt
Prime Minister David Cameron says, "those who now run Egypt have a duty to reflect the wishes of the Egyptian people".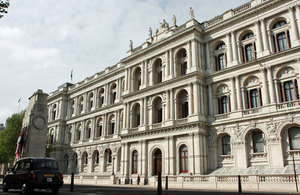 Speaking today the Prime Minister said:
"Today has been a remarkable day, particularly for those people in Tahrir Square and elsewhere, who have spoken out so bravely and so peacefully for change in their country. Egypt now has a really precious moment of opportunity to have a government that can bring the country together. As a friend of Egypt and the Egyptian people, we stand ready to help in any way that we can.
We believe it must be a government that starts to put in place the building blocks of a truly open, free and democratic society. Of course, what has happened today should only be the first step. Those who now run Egypt have a duty to reflect the wishes of the Egyptian people. In particular, there really must be a move to civilian and democratic rule as part of this important transition to an open, democratic and free Egypt."
Foreign Secretary William Hague said:
"President Mubarak has heeded the calls of the Egyptian people for profound change and a fresh start.
This change has been brought about by the courage and determination of the people of Egypt themselves. We have faith in their ability to shape their future and to seize the opportunity to move towards an open and democratic society.
It is now time for Egyptians to move forward, to settle their differences peacefully and to achieve the transition to a broad-based government that meets the aspirations and commands the respect of all Egyptians.
The Higher Council of the Military Forces has a particular responsibility to implement the concrete and irrevocable steps this transition requires and to prepare for free and fair elections.
Any attempt to turn the clock back would be deeply damaging to Egypt's stability and cohesion and to its standing in the world, and would be met by condemnation.
It is not a time for half-hearted measures. Egyptians have shown that they want irrevocable change for the better, not cosmetic change."
Published 11 February 2011