Prime Minister deeply saddened by destruction and tragedy caused by flooding in Brazil
Prime Minister David Cameron has sent a letter to the Brazilian President Dilma Rousseff following massive mudslides which have caused destruction in Rio and Sao Paulo states.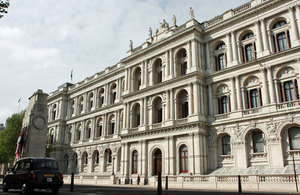 The Prime Minister's letter said:
"I was deeply moved and saddened by the terrible flooding that has caused such destruction and tragedy in Rio and Sao Paulo states in recent days.
"I have been following events closely and wanted to send you, the friends and families of those killed, and the people of Brazil our heartfelt sympathy and support at this very sad time."
Speaking yesterday the Foreign Secretary said:
"I send my condolences to all those who have lost family, friends, homes and livelihoods in the devastating mudslides in south-east Brazil. Coming so soon after the floods in Colombia and Venezuela, they are a reminder of the tragic human impact of natural disasters.
The British Government's thoughts and sympathies are with all those who are working to recover from this tragedy."
Published 14 January 2011