Prime Minister David Cameron arrives in China
Today the UK Prime Minister David Cameron arrives in China to lead the largest UK China Summit in history. The centrepiece of visit will be the Summit between the Prime Minister and Premier Wen Jiabao on Tuesday.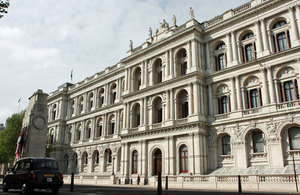 Prime Minister David Cameron
The Summit will enable the two leaders to discuss matters of mutual importance, to strengthen the bilateral relationship and to look forward to the G20 Summit in Seoul. The two premiers will also witness the signing of various government and commercial agreements. As Prime Minister Cameron said
"This is a vitally important trade mission. Our message is simple: Britain is open for business, has a very business-friendly government, and wants to have a much, much stronger relationship with China.
"I'm delighted we've got such a wide range of institutions and businesses coming with us. This visit will mark another step to making Britain the successful, open, trading and pro-business country that I want it to be."
Travelleing with the Prime Minister is the biggest ever UK Government delegation to China, including Chancellor George Osborne, Business Secretary Vince Cable, Energy Secretary Chris Huhne and Education Secretary Michael Gove. They will be accompanied by a large business delegation comprising leaders from the worlds of business, culture, arts and academia.
The following day Cameron will meet President Hu Jintao , before taking part in a high level panel discussion with an audience of 150 senior government and business representatives. He will also take time to speak to students from Beijing University about global issues, and will visit a rural school during a trip to the Great Wall.
Other highlights of the four day UK China Summit include the Joint Economic Trade Commission talks on Monday led by Business Secretary Vince Cable and Chinese Minister for Commerce Chen Deming; the first ever Energy Dialogue between the UK and China hosted by Minister Zhang Guobao, the Economic and Financial Dialogue led by Chancellor George Osborne and Vice Premier Wang Qishan; and an education summit led by Minister of Education Yuan Guiren.
Published 9 November 2010