Prime Minister congratulates President Mohamed Mursi on his election victory
Prime Minister David Cameron wrote to President Mohamed Mursi of Egypt last night to congratulate him on his election victory.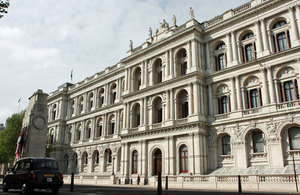 The British Government has welcomed President Mursi's statement that he intends to form an inclusive government that governs on behalf of all the Egyptian people. The Prime Minister wished President Mursi success in the task of supporting Egypt's transition to democracy and building the stable, inclusive and prosperous future which Egyptians deserve.
The Prime Minister emphasised his strong belief that the establishment of functioning democratic institutions which deliver the people's aspirations for reform and accountability will be important to pave the way to greater stability.
He also underlined the importance of swiftly establishing a government that reflects the breadth of political forces within the new Egypt and agreement over a new Constitution through an inclusive and transparent process.
Mr Cameron reiterated that he looked forward to working with Dr Morsi and his government on issues of common interest for the peace and stability of the region.
Published 25 June 2012