Prime Minister condemns violence in Egypt
Prime Minister David Cameron called for an end to the violence describing the scenes in Cairo as "despicable" and said they should not be repeated.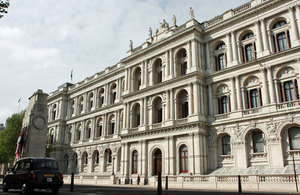 Speaking following his meeting with UN Secretary General Ban Ki-Moon, the Prime Minister said:
"We have been watching the events in Cairo with grave concern, and completely condemn the violence that is taking place. And if it turns out that the regime, in any way, has been sponsoring or tolerating this violence, that would be completely and utterly unacceptable. These are despicable scenes that we are seeing and they should not be repeated. They underline the need for political reform and, frankly, for that political reform to be accelerated and to happen quickly. We need to see a clear roadmap for that political reform, so that people in Egypt can have confidence that their aspirations for a more democratic, a future with greater rights, is met. And that change needs to start happening now, and the violence needs to stop."
Yesterday the Foreign Secretary announced that he was chartering a plane to Cairo to further assist British nationals who wish to return to the UK.
Published 2 February 2011