Prime Minister comments on elections in Tunisia
Prime Minister David Cameron has commented on the elections in Tunisia, saying they are a "remarkable achievement".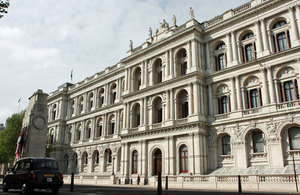 He said:
"For the first time today, Tunisians are able to express their views at the polling booth in what I hope will be free and fair elections. It is inspiring that so many candidates are competing for the opportunity to draw up the country's new constitution. This remarkable achievement reflects how far the Tunisian people have come since January when they rose up against their autocratic ruler to demand their right to freedom, dignity and a better future.
"Their determination and courage inspired real change across the Middle East and North Africa. As the first country in the region to put democracy to the test at the polling booth, Tunisia is once again leading the way.
"While Tunisians cast their votes today, Libyans are celebrating the end of forty years of ruthless dictatorship. Both have shown what can be achieved and just as we have stood by them in their fight for freedom so we will continue to support them in shaping a free, democratic and inclusive future."
Published 23 October 2011