Prime Minister calls for stronger relationship with China
UK firms should seek to explore opportunities for expanding their business in China, the world's second largest economy and the UK 's ninth largest export market, Prime Minister David Cameron said today.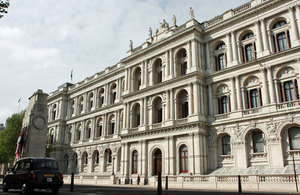 Prime Minister David Cameron
As he prepared to head to Beijing with the biggest group of UK Ministers and one of the biggest ever British trade delegations to China he said he was heading here for a "vitally important trade mission."
He said "Our message is simple: Britain is now open for business, has a very business-friendly government, and wants to have a much, much stronger relationship with China .
"I'm delighted we've got such a wide range of institutions and businesses coming with us. This visit will mark another step to making Britain the successful, open, trading, and pro-business country that I want it to be."
The Ministerial delegation includes Chancellor George Osborne, Business Secretary Vince Cable, Energy Secretary Chris Huhne and Education Secretary Michael Gove, backed by leaders from the worlds of business, culture, arts and academia.
Business Secretary Vince Cable said: "Domestic consumption in China is growing, the middle class is expanding, and Chinese companies are looking to internationalise. This brings a huge increase in opportunities for UK firms given that they are globally competitive in services, advanced manufacturing and engineering, ICT, life sciences and creative industries - all areas where Chinese demand is growing significantly.
"Like in any market it pays to do your research, and UK Trade & Investment, which has a network throughout China , can help companies find the opportunities that will help their businesses grow."
The three days of trade talks will encompass Joint Economic Trade Commission talks on Monday led by Business Secretary Vince Cable and Chinese Minister for Commerce Chen Deming. On Tuesday, there will be the Economic and Financial Dialogue, led by Chancellor George Osborne and Deputy Premier Wang Qishan. Later on Tuesday, Prime Minister David Cameron will meet Chinese Prime Minister Wen Jiabao for a UK-China summit. On Wednesday, there will be a Business Summit, opened by Prime Minister David Cameron who will later meet President Hu, and on Thursday Dr Cable will meet regional mayors to look at expanding ties throughout China .
UK goods exports to China rose 44 per cent in the first eight months of 2010, to £4.5 billion. Illustrating the potential of the Chinese market, last week, Airbus announced the sale to China of over one hundred planes, a deal which will be worth in excess of $5 billion to the UK economy.
The Aviation Industry Corporation of China (AVIC) forecasts that China will increase its commercial airfleet by 3,796 planes by the end of 2028. China currently has 166 commercial airports, set to increase to 244 by 2020. The biggest of these airports, Beijing International Airport , was designed by British architects Foster + Partners to be ready in time for the Beijing Olympics.
China-UK factfile
China is the second largest economy in the world in nominal US dollar terms. In 2009, China 's economy grew by 8.5%, the best performance of all the world's major economies.
China is approximately the same size as the US , with a population of 1.3 billion. There were 122 cities in China with over one million people in 2008.
Bilateral trade in goods and services between the UK and China was US $51.8 billion in 2009. The UK exported £7.7 billion to China in 2009.
The UK ranks alongside Germany as the largest European investor in China (in cumulative terms), with at least 25% of the EU total. The total realised stock of UK investment in China reached US$16.9 billion at the end of Aug 2010.
Chinese investment into the UK was $44 million in 2009, 9.3% of total Chinese investment to EU. By the end of Aug 2010, Chinese investment into the UK by stock was US$1.13 billion, and 400 Chinese firms are based in the UK.
China is currently the sixth largest investor in the UK by number of projects, with 1,572 jobs associated with Chinese investment.
In the last three years, Chinese Companies have committed to over 50 R&D Collaboration projects with a further 50 in the pipeline.
China's investment in clean energy in 2009 was $34.6 billion, the highest in the world - 86% greater than the US , which invests the second largest amount, and 208% higher than the UK.
China had no motorways before 1988. By 2009, it had 75,000 km, the second largest network in the world. This could increase to 100,000 km by 2020.
By the end of September 2010 there were 89 million cars in China - 13 million of these were sold in the first nine months of 2010. China overtook the US to become the largest car market in 2009. China currently produces over one million cars a month.
China has the largest mobile phone market: over 833 million subscribers (as of September 2010) and the highest internet usage, 420 million users (as July 2010).
China has overtaken the US to become the second largest luxury goods market in the world after Japan.
In 2008/9, there were 85,000 Chinese students in the UK.
On Sunday 31 October 2010, the UK Pavilion at Shanghai Expo was awarded a gold medal by Premier Wen Jiabao as the best Pavilion. The UK Pavilion's creator, Thomas Heatherwick, received a string of accolades, including the prestigious RIBA Lubetkin Award for International Architecture and the London Design Medal. UK Trade & Investment hosted over 150 business and over 100 other events; received over 10,000 VIP delegations; and hosted 10,000 hours of performances on site.
To read more on Firms say: China vital for future

Search the news archive
Published 8 November 2010