Prime Minister calls for restraint on all sides in Bahrain
Prime Minister David Cameron has personally called on the King of Bahrain to end the violent suppression of street protests in the Gulf state.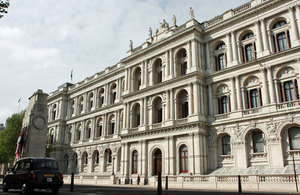 David Cameron spoke by phone to King Hamad bin Isa al-Khalifa last night. During the conversation he expressed his serious concern at the deteriorating situation on the ground and called for restraint on all sides. He said that it was vital that the Bahraini authorities responded through reform, not repression.
A spokesperson for the Prime Minister said:
"The Prime Minister encouraged the King to pursue the political dialogue that the Government had proposed, and he called on all sides to take part in that dialogue.
"Bahrain must respect the right to peaceful protest and respond to the legitimate concerns of the Bahraini people. Protesters must also refrain from violence and we urge them to respond positively to the offer of national dialogue."
The Foreign Office continues to advise against all travel to Bahrain.
Published 16 March 2011