Prime Minister begins Canadian trip
David Cameron visits with crew of HMS Ark Royal in Halifax, Nova Scotia.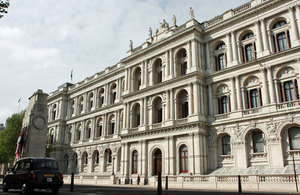 The PM addresses troops on HMS Ark Royal.
Prime Minister David Cameron touched down in Halifax, Nova Scotia Thursday afternoon to visit with the crew of the HMS Ark Royal.
While speaking to the crew the Prime Minister paid tribute to the navy's role within the military's operations, and reinforced the Government's ongoing commitment to supporting armed forces personnel.
The PM added:
"There is this thing called the military covenant written down, which is what the country offers you in return for what you offer us. You do so much, putting your lives and safety on the line. It is time for us to rewrite that military covenant to make sure we do everything we can for you and your families at home."
The visit comes just two days before Armed Forces Day.
The Prime Minister continues his trip to Canada Thursday night when he arrives at the G8 Summit in Ontario.
Published 25 June 2010