News story
Prime Minister appoints two new Trustees at the Natural History Museum
The Prime Minister has appointed Professor Dame Janet Thornton and Robert Noel to the board of the Natural History Museum each for a term of four years.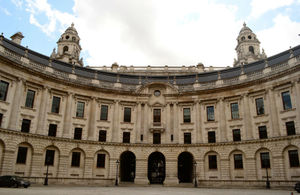 Professor Dame Janet Thornton, FRS, FMedSci
Janet Thornton is a Senior Research Scientist at the European Molecular Biology Laboratory - European Bioinformatics Institute (​EMBL-EBI​) ​on the Wellcome Trust Genome Campus at Hinxton, near Cambridge, UK. She was Director of the Institute from 2001-2015. ​ ​EMBL-EBI provides core bioinformatics data and services and performs bioinformatics research.
Janet's research is focused on proteins, especially their structure, function and evolution. Her group is also investigating the molecular basis of ageing. She has published more than 500 scientific papers, was elected to the Royal Society in 1999 and is a Foreign Associate of US National Academy of Sciences. ​ ​In 2012 she became a Dame Commander of the Order of the British Empire for services to bioinformatics.
​Robert Noel​
Robert Noel is the Chief Executive Officer of Land Securities Group PLC. Land Securities is the UK's largest listed property company and is a constituent of the FTSE100.
From 1992 to 2002, he was a Director of Nelson Bakewell Ltd, the property services group. He joined Great Portland Estates plc, the FTSE 250 REIT, in June 2002 as part of a new management team, and was appointed to the Board in August 2002. He joined Land Securities Group PLC in January 2010 and was appointed to the Board as Managing Director of its London business; he was appointed Chief Executive from 1 April 2012.
Robert is a Trustee and Director of LandAid, the property industry charity, and is a member of both the Prime Minister's Business Advisory Group and the policy committee of the British Property Federation. He is a Past Chairman of the Westminster Property Association and formerly a Director of The New West End Company, the central London business improvement district.
Published 18 May 2016