Prime Minister announces long-term partnership with Afghanistan
Prime Minister David Cameron has announced agreement on a long-term partnership plan which will see Britain offer economic, political and military support for Afghanistan.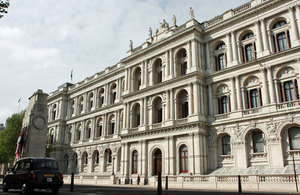 The Prime Minister made the comments during a pre-Christmas visit to the country where he stayed overnight at Camp Bastion in Helmand Province before travelling to Kabul to meet President Karzai.
The Prime Minister said the transition to Afghan control, agreed at last month's NATO Summit, did not mean the international community would abandon Afghanistan by 2014.
He said:
"On the contrary, we made it clear in Lisbon that we will stand by you for the long term. Britain will remain a close and reliable partner and friend for many years to come."
Mr Cameron also said 2010 was "without doubt a year in which we made real progress".
"2011 must be the year in which that progress becomes irreversible, because a safer Afghanistan means a safer Britain and a safer world."
He said British troops could start coming home from Afghanistan as early as next year.
The Prime Minister said he had seen that the people in Helmand were becoming more confident in returning to their ordinary lives as the surge of troops delivers more security.
He added:
"Of course, there is no scope for complacency. This progress is still fragile.
"But I am cautiously optimistic. We have the right strategy… we have put in the right resources to back it up and we have also given it a very clear focus on national security and we are on the right track.
"What I have seen on this visit gives me confidence that our plans for transition are achievable."
Speaking alongside Mr Karzai in Kabul, Mr Cameron highlighted three priorities for 2011, which he said must be "a decisive year in this campaign":
to maintain the security momentum created by the military surge;
to begin the process of transition of security responsibility to Afghan forces; and
to accelerate the Afghan-led political process of integration and reconciliation of insurgents.
Published 8 December 2010