Prime Minister announces conference on Somalia
Prime Minister David Cameron has announced that the UK will host a conference in London on Somalia in 2012 to pull together international effort.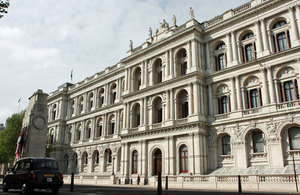 In his speech to the Lord Mayor's banquet on 14 November, the Prime Minister said that Somalia is a failed state that directly threatens British interests:
"Tourists and aid workers kidnapped. Young British minds poisoned by radicalism. Mass migration. Vital trade routes disrupted.
Meanwhile Somalis themselves suffer extreme famine, made worse by violence and some of the worst poverty on earth.
We shouldn't tolerate this.
Somali pirates aren't invincible: they are violent and lawless men in small boats and it is time we properly stood up to them.
That's why British vessels can now carry arms.
But there is a real and pressing need to pull together the international effort.
That is why Britain will host a major conference in London next year, to focus attention on:
protecting merchant ships passing through the Gulf of Aden
tackling pirates
pressurising the extremists
supporting countries in the region
and addressing the causes of conflict and instability in Somalia."
The conference aims to tackle the underlying causes of these issues and delivering a new international approach to Somalia. It will form the basis for coordinated and sustained international leadership on Somalia, bringing together international partners and key institutions like the UN and African Union. It aims to generate agreement on how to tackle the shared threats, and support a broader, more inclusive political process to bring security and stability to Somalia.
Read the full text of the Prime Minister's speech
Published 15 November 2011