Prime Minister and Afghan President sign UK-Afghanistan strategic partnership
Prime Minister David Cameron and Afghan President Hamid Karzai met at Chequers, Mr Cameron's country residence, where they signed an enduring strategic partnership between the UK and Afghanistan.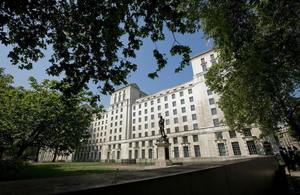 The partnership is a symbol of the UK and Afghanistan's shared vision for a secure, stable and prosperous Afghanistan able to maintain its own security and to prevent the country from again being used as a safe haven for international terrorists.
It reaffirms both countries' commitment to peace, democracy and respect for human rights, and sets out our agreement to continue to co-operate on political dialogue, security, governance, development and cultural links.
The signing of the partnership on Saturday 28 January 2012 builds on the International Afghanistan Conference in Bonn last year where the international community sent a strong message of commitment to Afghanistan's long-term future.
It shows that the UK will have a wide-ranging relationship with Afghanistan which will continue beyond the transition of security control to Afghan forces and the drawdown of international combat troops by the end of 2014.
Speaking from Chequers at the weekend, the Prime Minister said:
The build-up of the Afghan National Army and Afghan Police Force is very much on target and that is going to be one of the keys to the future stability and security of Afghanistan. We also want to have a long-term relationship with Afghanistan long after our combat troops have come home and that will happen at the end of 2014.
We will have a long-term relationship that will be based on the friendship of two sovereign nations. That will be a relationship about diplomacy, about aid, about trade, about investment, and about very strong two-way diplomatic ties and conversations like we've been having today [Saturday].
President Karzai thanked the Prime Minister and the people of Britain for their help in creating a better, more secure Afghanistan. He said:
The signature today [Saturday] of the agreement between us towards a long-term relationship will take us into a future where Afghanistan will benefit from the assistance and co-operation and help of Britain towards becoming a fundamentally strong democratic state free of terrorism and economically better off.
The UK strongly supports the Afghan Government's efforts to achieve a more inclusive political process and take forward reconciliation with those who are willing to renounce violence, break with Al-Qaeda and respect the Afghan constitution. At their meeting on Saturday, the two leaders also discussed further reforms necessary, particularly on the political track, to enable long-term stability in Afghanistan.
The Prime Minister said:
I think part of achieving that is not just what we are doing on the ground in Afghanistan with all the NATO partners, not just the long-term discussions that we've been having but also the need - as the President and I have often spoken about - for a political process that ensures that all Afghans, if they give up violence, if they give up terror, can play a part in a strong Afghan democratic constitutional state for the future.
Mr Cameron reiterated that the pace of the transition of security responsibility from the international coalition to Afghan security forces will depend on the situation on the ground. He said:
…between now and 2014 there will be opportunities for different countries to reduce their numbers. Britain has herself reduced our troop numbers over the last year. I don't want to see some sort of cliff edge in 2014 when all the remaining troops come out at once but clearly between now and 2014 the rate at which we can reduce our troops will depend on the transition to Afghan control in the different parts of Afghanistan.
And that should be the same for all of the members of NATO who are all contributing and helping towards a strong, stable, peaceful Afghanistan which is in all our interests.
Published 30 January 2012