News story
Preventing Sexual Violence Initiative reaches the Colosseum
The Embassy in Italy raising awareness of UK's Preventing Sexual Violence in Conflict Initiative by projecting images onto the Colosseum.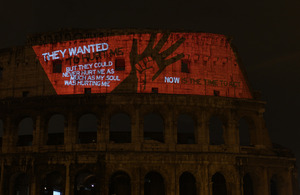 Staff at the British Embassy in Italy marked International Women's Day by promoting the UK's Preventing Sexual Violence in Conflict Initiative. Working together with the Department for Equal Opportunity at Roma Capitale, the UN High Commission for Refugees and two Italian organisations, Se Non Ora Quando and Avvocati Senza Frontiere, they projected images onto the Colosseum walls.
The Mayor of Rome, Gianni Alemanno, the British Ambassador in Italy, Christopher Prentice, and Lavinia Mennuni, from Roma Capitale, were present at the event.
The Foreign Secretary's Preventing Sexual Violence Initiative, a key foreign affairs priority for the UK's G8 Presidency this year, aims to increase the number of perpetrators facing justice, push for greater international action and help countries improve their efforts to tackle these crimes and support survivors.
Further Information
Follow the Embassy and the event on twitter @UKinItaly
Read more about the Preventing Sexual Violence Initiative
The British Embassy in Italy website
Visit the Roma Capitale website
Published 8 March 2013