News story
Preston City Deal to build new roads and create thousands of jobs and homes
City Deal with central government will see local leaders given powers to deliver growth and jobs in their communities.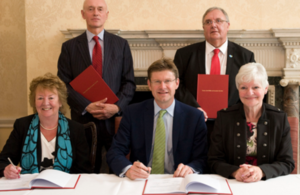 The deal, signed today by Deputy Prime Minister, Nick Clegg, Minister for Cities, Greg Clark, local businesses and leaders from Preston City Council, South Ribble Borough Council and Lancashire County Council is the first of the second wave of City Deals to get the go ahead from government.
The deal has been agreed following negotiation over several months. It will allow Preston, South Ribble and Lancashire to take forward four new road schemes, enabling over 17,000 new homes to be built, freeing up land for new development, and creating more than 20,000 jobs.
Employment sites: the transport investments will increase the attractiveness of employment sites in the area. For example, Lancashire's Enterprise Zone (at Salmesbury and Warton) is located on the outskirts of Preston, to the east and west of the city, but is constrained by poor roads. Increasing transport capacity around these sites should significantly improve their growth potential.

Transport: the four transport schemes at the centre of the proposal are the Preston Western Distributor (enabling 4,000 new homes, improving access to the Warton Enterprise Zone and costing £109.5 million), South Ribble Western Distributor (enabling 2,700 new homes, full development of two strategic employment sites and costing £52.5 million), Broughton Congestion Relief (enabling 1,400 new homes, employment sites in East Preston and costing £23.9 million) and Penwortham Bypass (improving access between local and motorway networks and costing £17.5 million).

Housing: the deal is expected to enable the delivery of 17,400 new homes in the Preston area. This includes an extra 2,400 new homes over what was previously planned. Approximately 1,200 new homes are expected to have been built by 2015, with a further 1,200 under construction by 2015.

Private sector leverage: the establishment of an Infrastructure Delivery Programme and Investment Fund worth a combined total of £450 million is expected to leverage a further £2.3 billion of commercial investment in housing and employment sites.
Deputy Prime Minister, Nick Clegg said:
This is an historic deal for the people of Preston, South Ribble and Lancashire. The North West has seen strong economic growth in recent years, so this deal with government means that hard-working families can have the jobs and homes they need to get on in life. It puts more power in the hands of local people so that they can choose where the big investments are made. This is a fair way for government to support cities as they grow and I hope many more cities will follow Preston, South Ribble and Lancashire's lead.
Minister for Cities, Greg Clark, said:
This is a great deal for Preston, South Ribble and Lancashire. The government is committed to unlocking the full growth potential of our cities. Powerful, innovative cities, empowered to shape their own economic destinies, will be able to get the national economy growing.
This deal will be crucial in helping Preston, South Ribble and Lancashire attract outside investment with new transport links, housing and employment sites dramatically improving the growth potential of the entire region.
Local Growth Minister, Mark Prisk said:
This government is committed to helping grow local economies and that's why we are supporting those cities that want their own powers to deliver prosperity.
This deal will give Preston, South Ribble and Lancashire the means to build 17,000 new homes and create local jobs by investing in their Enterprise Zone so they can successfully attract new businesses to the area.
Published 12 September 2013