Presidential and parliamentary elections in Sierra Leone
Foreign Office Minister Mark Simmonds and US Assistant Secretary of State for African Affairs Johnnie Carson call for free, fair and transparent elections.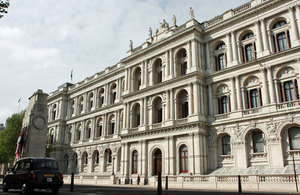 They said:
"On November 17, Sierra Leone will hold its third consecutive series of presidential and parliamentary elections since the end of its civil war in 2002. Sierra Leone has made considerable progress over the last decade. Free, fair, and peaceful elections in 2012 are critical for consolidating Sierra Leone's democratic and economic gains. We welcome the effort that has gone into preparing this month's elections.
"We call upon all Sierra Leoneans to participate actively in the process, to abide by the rule of law, to respect human rights, and to respect the eventual results. We also urge Sierra Leone's presidential and parliamentary candidates to adhere to Sierra Leone's democratic and electoral processes, to renounce violence and incitement to violence, and to ensure that the elections are free, fair, and transparent.
"The international community will be following the process closely. The United States and the United Kingdom value highly their long-standing friendship with Sierra Leone and the Sierra Leonean people. We look forward to continuing our work with them to ensure progress, sustainable economic development, and lasting peace in the region."
Published 13 November 2012