Press release
President Thein Sein makes historic visit to the UK
UK encourages progress on reform and announces new support for Burma's transition.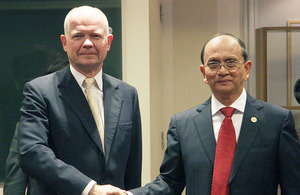 The Prime Minister today welcomed His Excellency President U Thein Sein to the UK. The visit comes 66 years after General Aung San, the founder of independent Burma and Aung San Suu Kyi's father, visited London in 1947 to sign an agreement guaranteeing Burma's independence. The President also met the Foreign, Defence, and International Development Secretaries during the first day of his two-day visit.
The Foreign Secretary William Hague said:
I congratulated the President on the reforms we have seen in Burma, which his government has initiated with the support of Aung San Suu Kyi and other leaders, and the President acknowledged the need to reform the constitution ahead of the 2015 elections. I urged him to continue to maintain this progress and offered UK assistance to this end. We discussed humanitarian and human rights issues, including political prisoners, ethnic violence and the plight of the Rohingya people, and I welcomed the President's announcement of the abolition of the Nasaka security forces in Rakhine State. The President also welcomed my personal initiative on preventing sexual violence in conflict.
Announcing nearly £30 million in development assistance, Development Secretary Justine Greening said:
The UK remains committed to Burma's development and is helping to provide essential healthcare services, education and humanitarian aid to those affected by conflict. We are also supporting the country's economic development so the Burmese people can benefit from the country's increasing prosperity and ultimately end aid dependency through growth and jobs.
As we continue to support Burma's ongoing reforms the UK Government will provide £13.5 million for a humanitarian programme in conflict-ravaged Kachin, delivering food, shelter, water and adequate sanitation and £10 million to support the first census in Burma since 1983 which is essential to make sure support is getting to those who need it most. We will also provide £5.65 million to boost Burma's economic development, so the country can better support itself and reduce its reliance on aid.
Following his meeting with President Thein Sein, Defence Secretary Philip Hammond said:
Reforming the Burmese military and pursuing a sustainable peace process will be key to Burma's stability and prosperity. The focus of our defence engagement will be on developing democratic accountability in a modern armed forces, and we have offered training for the Burmese military to this end.
During the meetings between the President and Ministers a number of agreements were made:
This was the first official visit of a Burmese President to the UK. He was joined by Minister for Foreign Affairs, Wunna Maung Lwin; Minister for the President's Office, U Soe Thane; Minister for Finance and Revenue U Win Shein; Minister for Border Affairs and overall responsibility for Rakhine State, Lt General Thet Naing Win; and Minister for Communication, U Myat Hein.

The UK wants to ensure that Burma's economic growth is transparent and equitable. Through the Foreign and Commonwealth Office's Prosperity Fund the UK will provide £450,000 for various projects to promote transparent and equitable economic reform in Burma. These projects will tackle corruption and money laundering; formulate policies on public-private-partnerships; strengthen the accountancy profession; better enable the Myanmar Investment Commission to undertake responsible investment assessments; and help to create a broad-based consultation process for investments.

The Department for International Development has committed a further £29.15 million in UK Aid to Burma in the form of:

£10m for the 2014 Census
£13.5m for victims of conflict and humanitarian programme in Kachin
£0.75m to support Burma's implementation of the Extractives Industry Transparency Initiative (EITI)
£4.9m for the Burma Business Innovation Facility
Further information
Follow the Foreign Secretary on Facebook and on twitter: @WilliamJHague.
Follow the Foreign Office on Twitter, Facebook & Google+.
Subscribe to the announcements feed or email alerts to get our latest news and announcements.
Published 15 July 2013