President Santos' UK visit heralds a step change in UK-Colombia relations
President Juan Manuel Santos of Colombia is visiting the UK. The visit is an important part of the step change the UK wants to see in its relationship with the wider Latin America region.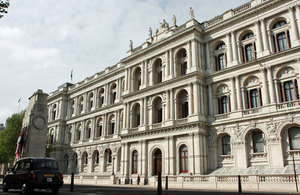 During his visit the President met the Queen, Prime Minister, Deputy Prime Minister, Foreign Secretary and other senior Ministers to discuss how the UK and Colombia can strengthen their bilateral ties.
Speaking after his meeting with the Colombian President, the Foreign Secretary said:
"President Santos and I held a productive and wide-ranging discussion. His visit has highlighted how much our countries have in common, our shared history and our desire to deepen and broaden our relationship."
"During the last two days our countries have agreed to double two-way trade to £1.75 billion by 2015. The UK will continue to provide technical assistance to Colombia on a wide range of issues, including Private Public Partnerships, OECD accession plans and land rights.
"Furthermore we will deepen our relations in new areas such as science, innovation and green growth. We have signed a number of co-operation agreements to strengthen collaboration on higher education.
"We welcome President Santos's commitment to zero tolerance of human rights abuses. I commend the progress already made, in particular his government's ambitious plans for returning land to those displaced by the internal conflict. Our two governments have agreed a Joint Declaration on Human Rights. We will continue to support Colombia's work to make further progress in this area.
"At the UN and elsewhere, the UK and Colombia continue to have a strong partnership on international security and on counter narcotics. We look forward to continuing to work together at the UN Security Council.
"We are renewing and reinvigorating our relationship with Latin America. Colombia is a country that matters to the UK. I look forward to seeing this relationship flourish in the months and years to come."
The two countries agreed to double two-way trade to £1.75 billion by 2015. The UK and Colombia also agreed to broaden relations in new areas such as science and innovation and green growth, and sign a number of co-operation agreements to strengthen collaboration on higher education.
The UK and Colombia agreed a joint declaration on human rights on 21 November.
The visit comes as President Santos continues with wide-ranging domestic reforms aimed at increasing security and returning land to those left dispossessed by internal conflict.
President Santos will give the Canning Lecture at Mansion House: a year after William Hague became the first Foreign Secretary to do so.
In his speech the Foreign Secretary had committed the UK to engaging more closely with Latin America, and to increasing its diplomatic presence in the region.
Foreign Office Minister Jeremy Browne said:
"Despite Colombia's strong economic credentials, at present it is only the UK's fifth largest export market in Latin America. There is so much more potential to be realised across the whole spectrum of sectors.
"I hope that the visit of President Santos will lead to an enhanced relationship in our important traditional areas of cooperation, like counter-narcotics and human rights, but also in those areas where we have made a good start but need too more, like trade, economic policy, education and climate change.
"I want our businesses to think of Colombia when they are choosing export markets. I want our universities and research institutes to make Colombia a priority for the their international outreach. And I want Colombia to think of the UK as a partner of choice."
Published 22 November 2011