President Obama speaks ahead of State Visit
President of the United States Barack Obama gave an interview ahead of his State Visit to the UK from 24-26 May.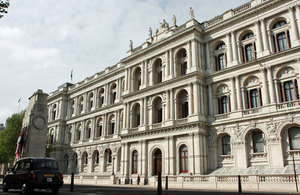 The President spoke to the BBC's Andrew Marr on a broad range of US policy priorities including Afghanistan, Pakistan, Al Qaeda, the Middle East Peace Process and the popular uprisings known as the Arab Spring.
He also spoke about looking forward to being a guest of the Queen at Buckingham Palace, whom he met on his first visit to London in 2008. Speaking about the upcoming visit the President said:
"I met Her Majesty, the Queen and the entire Royal Family the first time I was in England in April of 2008… I think what the Queen symbolises not just to Great Britain, but to the entire Commonwealth, and obviously the entire world is the best of England. And we're very proud of her."
This morning Foreign Secretary William Hague commented on UK and US co-operation on the big foreign policy issues including the Middle East Peace Process:
"It's important because only the United States can really, decisively deliver Israel into a peace agreement and give them the necessary assurances and so that the strong stand the President has taken is very welcome.
It means that as he comes to the United Kingdom this week on, on the Middle East peace process as well as the wider subject of the future of North Africa and the Middle East the policies of the UK and US are as closely aligned as they have ever been."
On Afghanistan the Foreign Secretary said:
"We are completely aligned [with the US] on this. Hillary Clinton in her speech on the 18th February set out the need for the political process as well as the military effort, that's something that David Cameron and I have also been very clear about.
There is no military only solution in Afghanistan, our military efforts are absolutely crucial to creating the security on the ground in Afghanistan to letting the Afghan forces build up the strength that they need to look after their own security after 2014.
But of course there has to be a political process as well to achieve a settlement in Afghanistan so we agree with the President about that but we also agree that for the Taliban it means cutting their ties with Al Qaeda, accepting constitutional arrangements in Afghanistan and desisting from violence."
Published 22 May 2011