Premier Wen in Britain for UK-China Summit
The Chinese Premier is in the UK from 25-27 June, accompanied by a delegation of Ministers from across the Chinese government.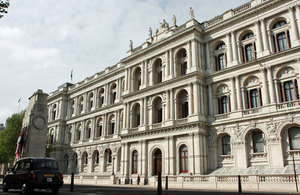 The Summit takes place at Number 10 on Monday morning. Prime Minister David Cameron, Foreign Secretary William Hague, Chancellor George Osborne, and Climate Change and Energy Secretary Chris Huhne will attend.
Premier Wen arrived in the UK on Saturday evening. He is accompanied by Foreign Minister Yang Jiechi, National Reform and Development Commission Chairman Zhang Ping, Trade Minister Chen Deming, People's Bank of China Governor Zhou Xiaochuan, and Vice Minister for Europe, Fu Ying. On Sunday, the Chinese delegation made a cultural trip to Stratford, and visited the Longbridge car plant in Birmingham.
This visit follows Prime Minister David Cameron's visit to China last November, which was the largest ever British ministerial delegation to China.
Published 27 June 2011