News story
Preliminary results of Afghanistan's Parliamentary elections announced
British Ambassador to Afghanistan Sir William Patey's statement in response to the Independent Election Commission's announcement of preliminary results of Afghanistan's Parliamentary elections.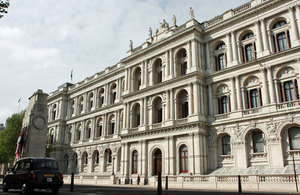 "We welcome the Independent Election Commission's (IEC) announcement today of the preliminary results of Afghanistan's Parliamentary Elections. These were the first Parliamentary elections to be run by Afghans since the 1960s and were held in very challenging circumstances. It is encouraging that the Afghan electoral authorities and the Afghan National Security Forces managed to overcome considerable logistical and security challenges to provide the majority of eligible Afghans the opportunity to vote.
We congratulate the IEC, under the leadership of Chairman, Professor Fazal Ahmad Manawi and Chief Electoral Officer, Abdullah Ahmadzai on its hard work and the robust steps it has taken to ensure the elections process following polling day has been as transparent as possible. It is clear from the number of votes invalidated that these elections were by no means free of irregularities and fraud. But, the IEC have investigated these irregularities, and have taken steps to disqualify fraudulent ballots and show that fraud will not be tolerated.
This is not the end of the process. We must wait patiently whilst the Electoral Complaints Commission go about their business of investigating complaints of electoral violation, which could require revision of certain results. The outcome of these elections will decide who represents millions of Afghans in their national parliament. We hope the ECC can do their work transparently and professionally and issue the final results of this historic election as soon as possible."
Published 20 October 2010