News story
Praise for specials and volunteers at awards ceremony
Dedicated and innovative special constables and police support volunteers were recognised at an annual awards ceremony in their honour.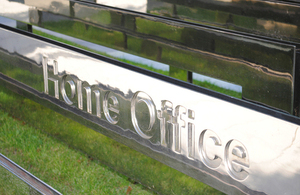 Successful nominees included a Metropolitan police volunteer who developed new software to help spot suspicious people in CCTV images and a team of special constables from Staffordshire Police who helped seize £250,000 worth of counterfeit goods.
The joint Home Office and National Policing Improvement Agency awards recognise the wide range of skills these unpaid volunteers bring to British policing.
Crucial role
Minister for Criminal Information Lord Taylor of Holbeach said:'These awards illustrate the myriad crucial roles that special constables and police support volunteers fulfil in forces.
'Whether it is policing football matches, stopping the sale of counterfeit goods or helping police and paramedics deal with late night revellers, these men and women show what an addition they can be to British policing.
'Their dedication in a voluntary role is inspiring and enhances policing across England and Wales.'
The event was attended by Metropolitan Police Commissioner Bernard Hogan-Howe and former NPIA chief executive Nick Gargan.
Tremendous contribution
Commissioner Bernard Hogan-Howe said: 'These awards highlight the tremendous contribution made by all volunteers and special constables at the Metropolitan Police Service and throughout the UK. They give a significant amount of their own time and bring their own unique skills to the Met to help us catch criminals and keep Londoners safe.
'Volunteers and Specials are from all walks of life and all ages. They are extremely inspiring and thoroughly deserve this recognition.'
Paul Minton Chief Executive of the National Policing Improvement Agency said:'Every day special constables and police support volunteers give up their free time to make a valuable contribution to protecting local communities.
'We are proud to have supported their efforts by helping to professionalise the Special Constabulary and working with forces to ensure that police support volunteers add real value to policing. And we are proud to pay tribute to their achievements.'
Published 19 October 2012