Praise for special constables and police volunteers at awards ceremony
Dedicated and innovative special constables and police support volunteers were recognised today at an annual awards ceremony in their honour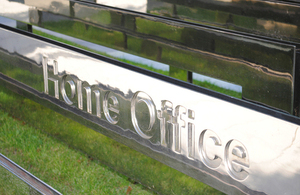 Successful nominees included a metropolitan police volunteer who developed new software to help spot suspicious people in CCTV images and a team of special constables from Staffordshire police who helped seize £250,000 worth of counterfeit goods.
The joint home office and national policing improvement agency awards recognise the wide range of skills these unpaid volunteers bring to British policing.
Minister for criminal information Lord Taylor of Holbeach said:
'These awards illustrate the myriad crucial roles that special constables and police support volunteers fulfil in forces.
'Whether it is policing football matches, stopping the sale of counterfeit goods  or helping police and paramedics deal with late night revellers, these men and women show what an addition they can be to British policing.
'Their dedication in a voluntary role is inspiring and enhances policing across England and Wales.'
Paul Minton chief executive of the national policing improvement agency said:
'Every day special constables and police support volunteers give up their free time to make a valuable contribution to protecting local communities.
'We are proud to have supported their efforts by helping to professionalise the special constabulary and working with forces to ensure that police support volunteers add real value to policing. And we are proud to pay tribute to their achievements.'
Metropolitan police support volunteer Robert Stevenson was highly commended by the judges for his work developing CCTV software to track suspicious behaviour following last year's riots. Mr Stevenson gave up more than 100 hours of his free time, on top of his normal volunteering, to complete the project, saving the force more than £6,000 in consultancy fees.
Also highly commended were Staffordshire police's specials force licensing team, who were responsible for seizing around £250,000 of counterfeit alcohol and DVDs through their work with trading standards and HM revenue and customs.
Notes to editors
1) The awards ceremony is being held on Friday, 19 October, between midday and 2pm at One Great George Street, Westminster, SW1P 3AA.
2) The awards - originally called the Ferrers awards after the then home office Minister - were first held in 1993 to recognise the work of special constables. They were subsequently renamed the special constable and police support volunteer awards to recognise and encompass tasks performed by non-attested, non-uniformed volunteers who give their time freely, performing tasks that allow regular officers and police staff to attend to other duties. The annual awards are a key component of the yearly police volunteering calendar.
3) The Ferrers individual award winner gets a trophy, a plaque and a certificate. The trophy stays with the force for a year and then is returned. All others recognised get a certificate.
4) If you wish to attend the awards or for more information about individual winners contact the home office press office on 0207 0353535.
Summary of award winners
ACHIEVEMENT IN RECRUITMENT AND RETENTION - PSVs
HIGHLY COMMENDED - Janet Gould, Greater Manchester Police
Janet Gould helped ensure police support volunteers in the area were supported and that processes were in place to maintain future recruitment.
She arranged a series of training events and an information evening at Ashton Town Hall.  Janet advertised the evening via the local media (press and radio), had posters printed and used Facebook and Twitter to boost attendance.  The evening resulted in 18 formal applications to volunteer. 
HIGHLY COMMENDED - Sergeant Karl Faulkner, Warwickshire Police
Sgt Karl Faulkner has developed a successful volunteer programme, which is professional, cost efficient and a benefit to Warwickshire Police.  He also developed a strategy, vision statement and implementation plans.
Due to Sgt Faulkner's efforts, Warwickshire Police now has 47 volunteers. This represents a 400 per cent increase since he started in his role. The fact that all those recruited are still volunteering (at the time the nomination was made) is evidence of the programme's effectiveness.
WINNER - Sergeant Ian Kennett, Avon and Somerset Constabulary
Sgt Ian Kennett sought situations where volunteers could meet and support their local community. He created specific posts and role descriptions for volunteers at two detached 'police posts' within the police station and developed a training induction package providing an effective introduction to work within the constabulary.
As a result of his efforts, retention of volunteers has significantly improved with only a 15 per cent turnover in three years.
ACHIEVEMENT IN RECRUITMENT AND RETENTION - SPECIAL CONSTABLES
HIGHLY COMMENDED - T/Inspector Bhupinder Rana, Northumbria Police
Temporary Insp Bhupinder Rana organised a recruitment event involving more than 300 students at Newcastle University and another at Newcastle Arena.
He has also developed IT solutions to assist with recruitment including a web based 'Day in the life of a Special' project.
HIGHLY COMMENDED - Lincolnshire Police HR Service Centre Recruitment Team
The team re-designed the recruitment and selection process to manage applicants more efficiently and effectively. They also re-designed the training programmes to better fit the needs of recruits.
Through these activities the team doubled the number of special constables within Lincolnshire Police, developed an understanding of retention challenges and increased interest in the Special Constabulary among the public. There has been an improvement in the ability to integrate Specials into mainstream policing.
WINNER - Sheridan Anderson, Metropolitan Police Service
Realising that recruitment and retention of specials in her borough was low; Sheridan Anderson designed a new system for monitoring applicants' progress, taking over all resource and duty management.  By centralising all data, duplication and errors were eliminated with instant access to accurate information allowing greater efficiency and results.
Sheridan's contributions have allowed the force to achieve recruitment targets and make significant gains in overall performance and operational commitment.
EMPLOYER SUPPORTED POLICING
HIGHLY COMMENDED - Special Constabulary Co-ordinator Mick Mann, Suffolk Constabulary
Mick Mann took personal responsibility for increasing the numbers of special constables in Suffolk, developing the Stopwatch Initiative - a scheme where retailers allowed their employees who were Specials, paid time off work to police retail areas, assisting in the fight against crime.
 He has worked with the team tirelessly to meet local and national businesses, attend careers fairs, and utilise other opportunities in order to promote the scheme.
His tireless work promoting employer-supported policing has increased the number of special constables the force has been able to retain and has assisted in providing an increased service to the residents of Suffolk.
WINNER - North-West Region - Special Constabulary, Greater Manchester Police
As part of the employer-supported policing scheme a live reporting system was developed to record employer hours in the North-West region.
As a result:
• There has been a growth from 43 companies who support the NW Special Constabulary to 95 companies (120 per cent increase);
• 316 Special Constables in the region have registered their employer to date.
POLICE SUPPORT VOLUNTEER INDIVIDUAL AWARD
HIGHLY COMMENDED - Robert Stevenson, Metropolitan Police Service
Following the riots in August 2011, Robert Stevenson designed and built software solutions to track suspicious behaviour in crowds using CCTV.
He produced guidance for users of the equipment to share best practice and wrote and produced a 'technical wrapper' to act as a step-by-step guide to users of the systems.  This is now widely embedded across the MPS.
In identifying these issues and solutions Robert gave 104 hours above his normal volunteering level, while continuing to provide support in his main volunteering role. This saved the MPS at least £6,500 in consultancy fees.
HIGHLY COMMENDED - Martin Coyne, Greater Manchester Police
Martin Coyne recruited 29 new policing cadets through advertising and managing the interviews himself.  He raised funding and sought sponsorship from local businesses to run the cadet scheme for a further year in Bury.
He guides cadets through first aid courses and charity work and works alongside neighbourhood policing teams to deliver newsletters and make contacts with the community.
WINNER - Hilary Lester, Gwent Police
Hilary Lester has greatly assisted Gwent Police in better understanding the needs of visually impaired and blind people.
She has supported a conference attended by 30 visually impaired people where more than 200 frontline police and local authority personnel received training in working with the visually impaired.
Hilary, who is registered blind, has also taken part in 60 training exercises with student police officers and PCSOs and assisted in developing a training day for 200 officers and staff.
POLICE SUPPORT VOLUNTEER TEAM AWARD
HIGHLY COMMENDED - South Gloucestershire Volunteer Identification Witness Chaperones, Avon and Somerset Constabulary
These volunteers have taken on the role of chaperoning witnesses taking part in identification procedures. The dedication shown by the Identification Unit Chaperones has saved around 1,000 hours of police officer time over the last year.
These individuals come out at short notice to attend to their chaperone duties at any time of the day.
The volunteer chaperones have ensured each procedure is completed in the shortest time possible and that witnesses are treated with the highest level of care.
HIGHLY COMMENDED - Newquay Streetsafe Project PSVs, Devon and Cornwall Police
These volunteers have set up an operation to assist medical staff and police officers to help intoxicated, vulnerable and often injured people late at night in the centre of Newquay.
More than 1,000 hours of volunteering were undertaken by the team of just 25 volunteers, saving at least 52 hours of ambulance time, 72 hours of police time and 76 hours of custody time
WINNER - Blaby District Police Volunteers, Leicestershire Constabulary
As at February 2012 the volunteers had installed obtained funding for 11 MemoCams to help catch criminals.
The volunteers gave up 251 hours of their free time, equivalent to a value of £7,500, travelled 1,440 miles and captured 1.2 million images. Of 34 installations of the hidden cameras, 27 have led to positive outcomes including prosecution.
The project is ongoing.  The group is self-funded through the sale of crime reduction products at community and neighbourhood events. 
FERRERS' TEAM AWARD
HIGHLY COMMENDED - Specials Force Licensing Team, Staffordshire Police
These specials have been working with Trading Standards and HM Revenue and Customs  in operations targeting counterfeit goods in off licenses and car boot sales, helping make several arrests.
They have been responsible for approximately £250,000 of counterfeit alcohol and DVDs being seized and removed from circulation.
HIGHLY COMMENDED - Gwent Police S/C Tasking Team, Gwent Police
The special constabulary tasking teams launched various initiatives, including Christmas and Summer Drink Drive campaigns which resulted in 1,741 breath tests. Their vehicle safety initiative resulted in 692 vehicles being stop checked, 57 fixed penalties, 50 verbal warnings, 30 taxi prohibitions, and two scrap metal theft arrests.
By September 2011, anti social behaviour incidents had fallen by 30.1 per cent, resulting in 2,521 fewer victims.
By February 2012 there was an 11 per cent reduction in crime across the force, the biggest drop in England and Wales with around 5,000 fewer victims of crime.
WINNER - Eastern Region SC Mutual Aid, Eastern Region
Improving interoperability of the Special Constabulary throughout the region, this team has developed two key documents used to plan and organise pilot events:
1. Mutual Aid Memorandum of Understanding, setting out the responsibilities of both host and donor forces, and general spirit of collaboration; and
2. Mutual Aid Request Form.
This initiative has generated cost savings amounting to £223,912 for the region during the current financial year.
FERRERS' TROPHY
HIGHLY COMMENDED - Section Officer Daniel Lees, Derbyshire Constabulary
In 2010 Daniel Lees created the Specials Football Support Unit which took charge of all matters pertaining to traffic control, road blocks and coaches containing 'away' supporters. The unit has policed every Derby home match since 2010.
Daniel selected and trained a dedicated team of Special Constables. He has built up fantastic links with Derby County FC and also with the operational planning department which ensures that all duties are covered and the police, stewards and Derby County employees work harmoniously together for the benefit of the public.
OVERALL FERRERS TROPHY WINNER
WINNER - Chief Inspector Paul Cretney, Cumbria Constabulary
Through Ch Insp Paul Cretney identifying where key gaps in supervision and integration in the force were, he developed a 12 month plan, implementing a new rank structure with clear remits in each role and ensured that the Special Constabulary was represented at relevant meetings and mirrored that of the regular force. 
Ch Insp Cretney worked with the training team to deliver more structured training for special constables, and introduced a performance framework.
With Ch Insp Cretney's leadership North Cumbria specials have increased the number of hours they work by 70 per cent.
Published 18 October 2012